Spa Creations 3-Tier Rolling Cart with Locking Wheels
Measures 21.25" L x 11.5" D x 30.63" H.
Imported.
SKU # 41281802
Spa Creations 3-Tier Rolling Cart with Locking Wheels
7
8
Great little cart
Perfect size for my smaller bathroom. Was easy to put together, looks really cute and was a great value. I chose to not use the rolling casters, which seemed to work better for me.
September 22, 2014
Easy to put together, difficult to keep together
Shelves are supposed to snap/lock in place. However after my husband put it together everything popped apart. He assembled it again passed it off to me and everything popped apart again. I added two zip ties (thanks to reading previous reviews) on each end of all three shelves now it is stable and won't fall apart. However the casters have popped out a couple times. Will probably add some glue at some point to permanently set them. Decided to keep it and work with it because I have been searching for a cart to organize baby stuff for my nursery and this had the best style and space for the price and my needs. Definitely would have rayed higher if it were supplied with the extra parts needed to secure it from falling apart.
September 16, 2014
Tipsy Cart
The cart was the right size for what I needed and that is why I am keeping it, but it is very tipsy and not sturdy for rolling. I am considering taking the wheels off to see if it would be more stable. I wouldn't recommend this for anything other than extra shelf space. It would fall apart if it had to be moved a lot.
August 11, 2014
bathroom rolling cart
very cute. fits perfectly in small bathroom space. awkward for one person to put together
August 4, 2014
Very disappointed, this is very unsatisfactory
I bought this in the store. As I tried to put it together, and tried to install the trays (baskets really), each previously-installed tray kept popping out as the next one went it. It was nice that each basket is mesh and things won't fall through, and I even considered just using them alone. They are roomy and would hold a lot. But they were bent and misshapen. There are no screws, nothing to secure the baskets; you sit one in the sides, and then when you put the next basket in, the previous one pops out. I managed to get the first two installed but when I put in the top one, the bottom one popped out. It's not secure, it's flimsy, it rocks, and I just threw the pieces in the trash. A waste of $30. And I was SO looking forward to organizing my bathroom. Now I'm back to searching for Plan B. Very disappointing, and really sad to think that this is the kind of "quality" at Bed Bath and Beyond. I'll probably just go get white cheap plastic shelves from Walmart. If I could, I'd give it zero stars.
June 8, 2014
Exactly what I was looking for!
I have been looking everywhere for a cart like this. The shelves are mesh so they are able hold more than just larger items. This was really easy to put together. No tools needed. The shelves and wheels snap into place. I'm not sure why you would need zip ties per the review below...
April 16, 2014
adding clips to furntiure ends.
I recently purchased this product. I like it but found out that it should have 2 clips per end added to make it more sturdier when you are putting it together. When putting it together the ends sometimes tend to slip apart and buy using small zip ties I secured it better and made the product more stable. I thing adding 6 clips to this product will make it better.
August 13, 2013
Related Searches:
Similar Products: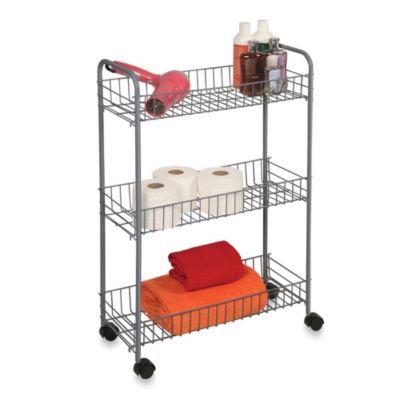 3-Tier Rolling Cart
Price:
$24.99
Colors:
bronze, silver, white
Categories:
Storage & Cleaning > Storage & Organization > Drawers & Carts
Stylishly store items in any room with this large rolling cart in bronze. This 3-shelf utility cart provides ample space for bowls, plates, pots and more. Casters allow for easy movement of the cart while the locking mechanism prevents unwanted rolling.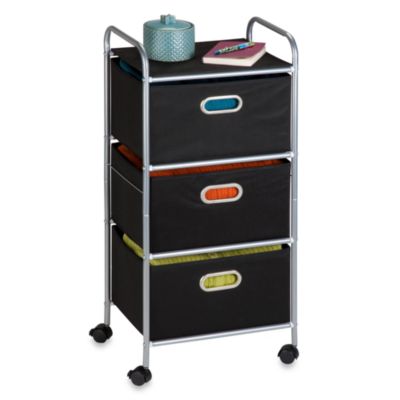 Honey-Can-Do® Steel 3-Drawer Rolling Fabric Cart
Price:
$39.99
Brand:
Honey-Can-Do
Categories:
Storage & Cleaning > Storage & Organization > Drawers & Carts
Get organized in style and convenience with this sturdy multi-purpose Honey-Can-Do 3-drawer rolling fabric cart. Made with a combination of steel and fabric, this durable cart is easy to move or keep in place with two locking wheels.
Also check out:
$39.99

Exclusively Ours

(3 Reviews)

$29.99

Exclusively Ours

(6 Reviews)

$19.99 - $24.99

Exclusively Ours

(10 Reviews)

$29.99

Beyond Value

(15 Reviews)

$19.99 - $24.99

Exclusively Ours

(9 Reviews)

$29.99

Exclusively Ours

(32 Reviews)

$99.99

Exclusively Ours

(6 Reviews)

$14.99 - $19.99

Exclusively Ours

(60 Reviews)

$5.99

Beyond Value

(19 Reviews)