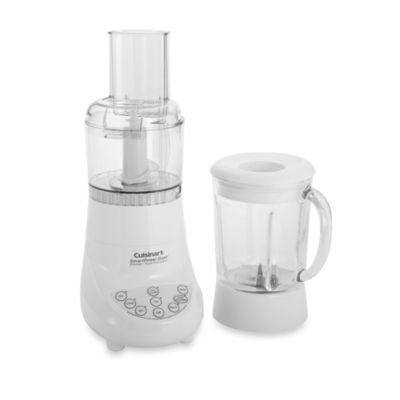 Cuisinart® Smart Power Duet™ Blender/Food Processor Combination
Cuisinart® Smart Power Duet™ Blender/Food Processor Combination allows you to create frozen drinks, crush ice and prepare your ingredients for your favorite recipes
Seven speed contols (includes an ice crushing setting)
3-cup work bowl and chopping blade/slicing-shredding disc perform all the duties of a food processor
40-oz. glass jar with a dripless pour spout and press-on cover
Powerful and energy efficient motor
Stainless steel blades
Includes 2-oz. removable measuring lid
Measures 6.88" L x 8" W x 16.25" H
Weighs 10.9 lb.
UL listed
3-year limited manufacturer's warranty
Imported
Model BFP-703
SKU # 11735843
Cuisinart SmartPower Duet Blender Food Processor
Hi, I'm Mary Rogers, Director of Marketing Communications for Cuisinart. This is the Cuisinart Smart Power Duet Blender Food Processor. This is a great product. You get two products in one.
First, it's a seven speed electronic blender. It has a 40-ounce glass carafe. The lid comes off really easy. You just pull it up and push it down. Also, this removes so that when you're blending you can add extra ingredients if you're going to be making something like a vinaigrette. While the blender is running, you can add your oil right through here, and it will emulsify for you. Blenders are great to have because they perform so many different functions. This one has lots of great features. Like I said, it has seven speeds. It has a stir function, a chop function, mix, puree, pulse, so it can pulse on any speed. It has also called out an ice crush feature, and has on and off.
The other thing that's great about this is that when you remove the blender, you can put on the food processor attachment. This is really great. You can use it to chop nuts. You can use it to do herbs. You can use it to make salsa. It's really, really useful. The other thing that's great is that when you take the lid off, and remove the chopping blade, you can put the disc on with the stem adaptor and you can slice and shred right into your food processor. One side is for slicing. The other side is for shredding. It's really, really useful. It has a 500-watt motor. It has on and off, and like I mentioned, it has a called out food processor function. It runs at a specific speed just for food processing. Food processing is done at a much slower speed than blending. Food processing is done at about 1700 RPMs. When you're blending, this blender runs at about 17,000 RPMs. so it is actually designed to automatically step down to the right speed so you process your food perfectly.
So there you have it. The Smart Power Blender by Cuisinart.
Cuisinart® Smart Power Duet™ Blender/Food Processor Combination
17
18
Great space saving product
I really enjoy my Cuisinart Duet. It does everything I need to do and saves space by using one base. It is heavy duty and sturdy.
December 18, 2013
Blade freezes
I've replaced the blade twice on this and have never put the blade in the dishwasher. The blender blade "seizes" and freezes and quits working.
November 5, 2013
Love the Dual Function
I love this product, and have owned it for several years. When i was originally shopping for this type of appliance i wanted something more than a blender, but did not want a full blown powerful, word processor. For me, this was the perfect solution. It's not as bulky as a food processor, which helps with storage, and very powerful for a blender. After many years of usage i did have to replace the plastic food processor bowl, but the cost was insignificant. I am very pleased with this product and was planning on purchasing one for my daughter.
November 23, 2012
switch out the outlet
Love this blender and food processor. I can grate cheese in 1/2 the time and it makes great smoothies. The only problem...it won't turn on consistently. You have to change the plug from outlet to outlet. Other than that, it's a great space saver and handy tool.
September 12, 2012
Want To Set A FIre?
I've had an obsession with smoothies lately and started using my blender a lot more. Unfortunately, while making a milkshake, the blender started smoking. The seal was melted and pieces were smoking on the blender. I would not recommend this blender to anyone.
July 28, 2012
thumbs down
I purchased this blended a year ago-it does not crush ice as promised for slushys. My blade broke during the process. The replacement piece is $20 with shipping-I refuse to buy it-it should be offered for free through Cuisinart. I think I will go buy another blender,switch out the attachment I need,and then return it for a full refund. Let Cuisinart deal with the lemon.
July 16, 2012
Great Product
I have owned this Duet Food Processor/Blender for at least 2yrs. It has been a very dependable product and a great purchase for me. It is very easy to clean and works well as both a blender and food processor. I have never had a problem with making smoothies with frozen fruit. I just don't understand what possibly would cause all these negative opinions. I love Cuisinart products.
July 3, 2012
Excellent Product!
I have personally owned this unit in black as shown in video. I just love it! The only problem I have had I believe is old age and dropping the plunger part to the processor. I look forward to buying a new one, hopefully in black again.
April 8, 2012
Related Searches:
Similar Products:
Also check out:
$19.99 - $59.99
(57 Reviews)