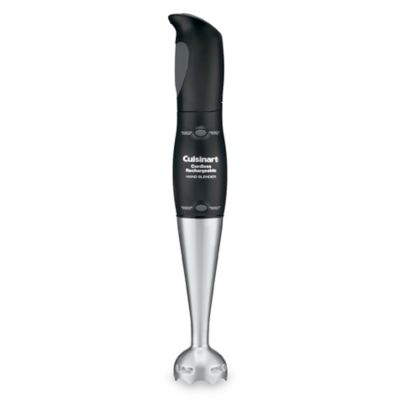 Cuisinart® Smart Stick PLUS® Cordless Rechargeable Hand Blender
Cuisinart® Smart Stick PLUS® Cordless Rechargeable Hand Blender handle plugs into an outlet to quickly recharge for up to 20 minutes of continuous performance
Easy to use, one-step power switch
Includes:

Wisk
Chopper attachment
16 oz. mixing/measuring beaker
Handy wall-mountable storage stand to save space

Measures 2.5" L x 2.5" W x 16.5" H
Weighs 4.7 lb.
3-year manufacturer's warranty
Model CSB-78
SKU # 16638854
Cuisinart Smart Stick Cordless Hand Blender CSB 78
Hi, I'm Mary Rogers, Director of Marketing Communications for Cuisinart. This is Cuisinart's Cordless Rechargeable Hand Blender. It's a great product. It's very versatile. It's totally integrated so that when you want to charge your hand blender, you take the top off, you slide this. That's where the plug is. You plug that into the wall, and that's the part that actually has the rechargeable battery in it. You pop it back on here. To remove it, you press this button. That's what makes it come off. The other thing that's great is this other button detaches the mixing wand. This is all stainless steel. It's great because you can put it right in the dishwasher and the sink, and you have nothing else to clean on the product.
So you pop it in like that, and when we say it's cordless, it gives you the ability to take it right to a pot and puree soup or chop up some tomatoes. It's really, really efficient for that. The other thing it's good for is you can put it inside this beaker. You can make a vinaigrette, or you can actually take skim milk, and if you mix it and draw this up while you're mixing it, it'll make a beautiful whipped topping for dessert and it's really low-fat and low-calorie. The other thing that you can do with this is you can put it on top of the chopping attachment. It's really great because you can press the top right here where the button is. You can chop nuts, you can chop herbs, you can chop onions, you can make a vinaigrette in there. It's really, really handy.
Lastly, you can pop on the wisk attachment. This is really great if you're going to be wisking anything like for a meringue, or even eggs for an omelet. It's really, really handy. So you just put it in a bowl and press it like that. Additionally, like I mentioned, you pop the bottom off. This goes right in the dishwasher. It will actually run for 20 minutes, which is a very long time. You'll get lots of great use out of your cordless Cuisinart Hand Blender.
Cuisinart® Smart Stick PLUS® Cordless Rechargeable Hand Blender
6
6
Don't buy it!
This product's charge does not last! The operating button is at the top of the unit which is very cumbersome and not user-friendly! Very poor design! Looks Great if you just want to look at it! I would not recommend it! I returned it!!!!!
November 3, 2014
flimsy
i bought this hand blender only because it was wireless, but soon realized that when i wanted to use it, the batter was low and i had to re-charge it or else it was very weak and wouldn't get the job done. It takes a little while to charge and has no indication of when it's fully charged, the red light is ALWAYS on when it's on charge. It also has no indication to let you know that the batter is running low. =/ After using it a few times i noticed that it's very flimsy and wobbly when working, to the point that i had to hold the top handle and the attachment in fear that it would break in half or fly out. I finally decided to return it and i did last night. i got the Calphalon® 2-in-1 Immersion Hand Blender instead. Haven't used it yet, but at least it has a cord and i don't have to about guessing it it's charged or not.
February 5, 2013
Weak!
I bought this product for my boyfriend for Christmas. I was embarrassed to give him a present that barely worked. It was new and fresh out the box. He tried to use it to blend cauliflower however it wasn't strong enough. He thought he needed to charge it more but that didn't work. He ended up returning it for the one with the cord. We are still waiting for it to be delivered. Hopefully that one will work.
February 4, 2013
Product is good, but too pricey
It certainly does everything it shows on the video and also as written in the advertisements. I just wish I waited to purchase because I would have seen the same item at Sharper Image for half the price with more features. With a Groupon, I could have purchased for $24. Sharper Image has it for $50. I use it every day to make my smoothies and it's very good.
June 29, 2012
The Cuisinart Smart Stick has Whipped Up My Life
The fact that this wonderful item not only makes great smoothies, whipped milk for latte`s...it's great for making sauces, soups and has a little cutter with bowl, that minces veggies. It can easily preparer an afternoon salad. I feel my investment was worth every dollar. Still finding and learning new uses! Not only that, dishes seems so much more tastier. Easy to clean and use.
February 23, 2012
Great concept..needs work
I was excited to try this out but I'm sorry to say it just feels flimsy. This blender is made up of three separate parts that attach to make the blender: mixing piece, base and battery. When in use its a bit rattlely,,,or jigglely. Also the on button in on the very top so its difficult to use one handed while stirring with the other ( and I have strong hands/arms) And the power doesn't seem strong. My opinion is that it still is better to stay with corded until engineers work these concerns out, then it will be outstanding.
June 29, 2011
Related Searches:
Similar Products: