Personalization is required to add item to cart or registry.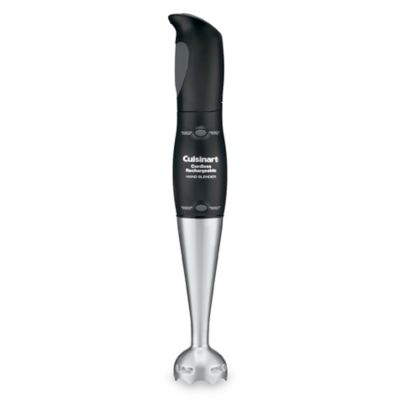 Cuisinart® Smart Stick PLUS® Cordless Rechargeable Hand Blender
Similar Items
The item you viewed above is out of stock. We also suggest:
Cuisinart® Smart Stick PLUS® Cordless Rechargeable Hand Blender handle plugs into an outlet to quickly recharge for up to 20 minutes of continuous performance
Easy to use, one-step power switch
Includes:

Whisk
Chopper attachment
16 oz. mixing/measuring beaker
Handy wall-mountable storage stand to save space

Measures 2.5" L x 2.5" W x 16.5" H
Weighs 4.7 lb.
3-year manufacturer's warranty
Model CSB-78
SKU # 16638854
Cuisinart Smart Stick Cordless Hand Blender CSB 78
Hi, I'm Mary Rogers, Director of Marketing Communications for Cuisinart. This is Cuisinart's Cordless Rechargeable Hand Blender. It's a great product. It's very versatile. It's totally integrated so that when you want to charge your hand blender, you take the top off, you slide this. That's where the plug is. You plug that into the wall, and that's the part that actually has the rechargeable battery in it. You pop it back on here. To remove it, you press this button. That's what makes it come off. The other thing that's great is this other button detaches the mixing wand. This is all stainless steel. It's great because you can put it right in the dishwasher and the sink, and you have nothing else to clean on the product.
So you pop it in like that, and when we say it's cordless, it gives you the ability to take it right to a pot and puree soup or chop up some tomatoes. It's really, really efficient for that. The other thing it's good for is you can put it inside this beaker. You can make a vinaigrette, or you can actually take skim milk, and if you mix it and draw this up while you're mixing it, it'll make a beautiful whipped topping for dessert and it's really low-fat and low-calorie. The other thing that you can do with this is you can put it on top of the chopping attachment. It's really great because you can press the top right here where the button is. You can chop nuts, you can chop herbs, you can chop onions, you can make a vinaigrette in there. It's really, really handy.
Lastly, you can pop on the wisk attachment. This is really great if you're going to be wisking anything like for a meringue, or even eggs for an omelet. It's really, really handy. So you just put it in a bowl and press it like that. Additionally, like I mentioned, you pop the bottom off. This goes right in the dishwasher. It will actually run for 20 minutes, which is a very long time. You'll get lots of great use out of your cordless Cuisinart Hand Blender.
Related Searches