Cuisine de France® 15-Piece Cutlery Set
Being made of high carbon stainless steel, these blades hold their razor-sharp edge and their comfortable handles feature thriple rivets for strength and reliability.
Set includes 8" chef knife, 8" bread knife, 7" slicer, 6" santoku knife, 5" fine edge utility knife, 3" parer, six 4 1/2" steak knives, 8" kitchen shears, 12" sharpening steel and a 4" W x 6 1/2" D x 8" H durable hardwood knife block.
Not recommended for dishwasher use.
Limited lifetime warranty.
SKU # 16171212
Cuisine de France® 15-Piece Cutlery Set
14
14
Rust!
Was very disappointed that they turned to rust right away!
September 29, 2014
impossible to prevent rust
These knives are meant to be hand washed...I assume to prevent rusting. Well, no matter how well you wash and dry them, they will rust. It's annoying but this was the most inexpensive set.
July 14, 2014
Rusted within 6 months of purchase
I purchased this item about 6 months ago for the Bed Bath and Beyond store on 2nd street in Edmond OK. I was shocked to discover that the knives are beginning to rust. I am disappointed since I purchased this product after reading very good reviews of this item on the website.
June 17, 2014
Great for the price!
I really thought these would be cheap since they are so inexpensive but theyre not! The knives cut easily through an ear of corn and anything else you can imagine. The scissors work great for everyday cutting. Steak knives did their job, didnt shred the meat and just cut evenly. I was really impressed. I hand wash them so nothing has rusted and they still look great after 2 months.
May 23, 2014
Very Sharp
I love this knife set. Has everything I need on a day-to-day basis. The reason I rated it a 4 star is because I'm disappointed that they aren't dishwasher safe (the begin to have rust spots on them if you do).
December 11, 2013
Fine set of cutlery
I was skeptic at first about this product because of it's low price. After a couple of uses, I really like these knives. I have no use for the sharpener since I can't use this correctly. Would have liked to seen this omitted and another knife in it's place. Other than that, a great set of knives for the price.
March 14, 2013
Great quality for the inexpensive knife range
I have been using these for 10 months, and washing them in the dishwasher (even though they say not too -- oops). They are holding up great -- no rust spots, no loose handles, no noticeable dulling, nothing. Knives come in a whole wide range of prices, but I wouldn't pay more when you can get these, and be pretty much set.
December 16, 2012
broken handles
Item arrived with handles cracked. I can only assume if the handles were cracked before use that over time, the same would happen with continued use. Will look for a higher quality set.
July 22, 2012
Related Searches:
Similar Products: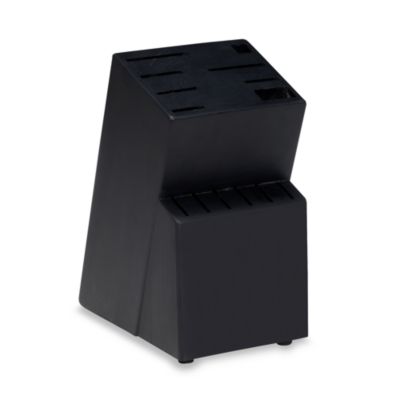 Cuisine de France® 14-Slot Black Finish Wood Block
Price:
$14.99
Categories:
Kitchen > Cutlery > Blocks & Storage
Store all of your everyday use cutlery in this handsome wood block to save space on your counter while keeping your most important knives close at hand.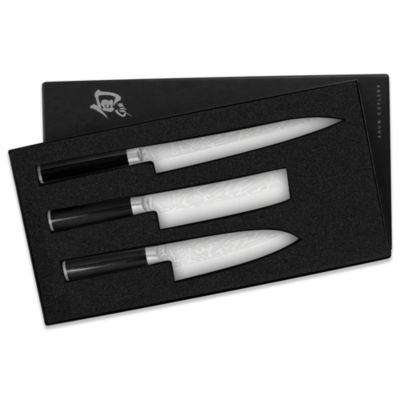 Shun Pro 3-Piece Asian Chef's Set
Price:
$479.99
Brand:
Shun
Categories:
Kitchen > Cutlery > Block & Starter Sets
Shun Pro collection knives feature traditional, handcrafted single-bevel blades that define traditional Japanese cutlery for preparing Asian cuisine, including sushi and sashimi. Distinct graffiti blade etching gives cutlery an elegant, contemporary look.
Laguiole 4-Piece Colored Spreaders Set with Storage Case
Price:
$55.99
Brand:
LAGUIOLE
Categories:
Kitchen > Cutlery > Open Stock Knives
These high quality spreaders from France are each signed by renowned knife maker Jean Dubost and boast ergonomic, multi-colored acrylic resin handles.
Also check out:
$49.99

Beyond Value

(50 Reviews)

$24.99

Beyond Value

(23 Reviews)

$39.99

Beyond Value

(64 Reviews)

$8.99

Beyond Value

Exclusively Ours

(6 Reviews)
$89.99

Free Standard Shipping