Ruggies™ Amazing Reusable Rug Grippers (Set of 8)
Ruggies Amazing Reusable Rug Grippers help rugs stay in place, even during vacuuming
Uses tacky grip polymer technology that won't leave residue behind or damage your floors
Made of polyurethane, polyester and paper
Hand wash only
Includes:

8 grippers
8 adhesive strips

Imported
SKU # 41355152
Ruggies™ Amazing Reusable Rug Grippers (Set of 8)
16
17
Does NOT work
I have been dealing with sliding rugs with my dog for months and finally put these on. THEY DO NOT WORK. First, I have a carpet on my front room floor and they do not stick to the backing of the carpet! What is the point? I decided to use the extra four for the runner in front of my sliding glass door...guess what, does not stick to the back of that either; therefore it can't work because both carpets are still sliding around!! It is not worth it. Just by the regular backing that goes under the carpet...that is what I will be doing today.
August 9, 2014
Good product
Saw a few negatives on this product and was reluctant to try them However, I finally bought some and am very happy with these grippers. They are holding a 3 x 5 rug on an oak floor that gets a fair amount of traffic. The floor has to be clean - they won't hold their grip on dirt for any length of time.
June 25, 2014
Works for me
Interesting to see all the negative reviews as I'm actually ordering a second box. I used the first box for the rug right inside my front door. It's been a couple of months and the rug hasn't budged, despite all the feet-wiping on it as people enter. I did end up using all 8 because my rug was purchased folded and the middle of each side stuck up where it was bent, so I used the additional ruggies there, just turned them the other way. Btw, I'm using the ruggies on faux-wood flooring (not sure exactly what material the floor is). I have yet to remove and re-use them, but I probably won't need to for a long while.
May 10, 2014
Horrible product!!
Did not work at all on any surface. Very disappointed. Don't waste your money!
April 1, 2014
Better than the TV commercial
I don't buy many TV products, but this one seems too good to pass up. Great idea and the value is fantastic. I have bought many and they all work great. Different types of rug backings and they all stick and clean up easily.
February 28, 2014
Doesn't stick to either surface!
I too was excited to find a product that could solve the problem of a constantly moving rug runner in my home. I prepared the surfaces by vacuuming the rug and cleaning the tile floor. With all surfaces dry and clean, I first tried the Ruggies without the additional adhesive pieces, and even took the additional step of anchoring down all corners with flat, heavy items to help with the adhesion process. In only a few hours, after removing the anchoring items, the edges started coming up on the rug side. I repeated the same process a second time, but added the adhesive pieces, and let everything set overnight. By the end of the day, the edges were coming up again. I never like to buy items that are "as seen on TV," because they're usually a giant disappointment. Ruggies fall into that category. I returned them for a refund.
January 22, 2014
Just doesn't work
After receiving them I have a couple of comments. First, it attaches the carpet "semi permanently" to the floor. To sweep under it you'd have to take the Ruggies off and then wash them before putting them back on. I couldn't get the Ruggie to stick to the carpet backing. In my opinion, it is a waste of a purchase.
January 20, 2014
Doesn't stick
Product stuck to my tile floor real well but not at all to my rug. I was so hoping this would work! They remind me of the sticky lint rollers you can wash off and then keep using.
January 15, 2014
Related Searches:
Similar Products: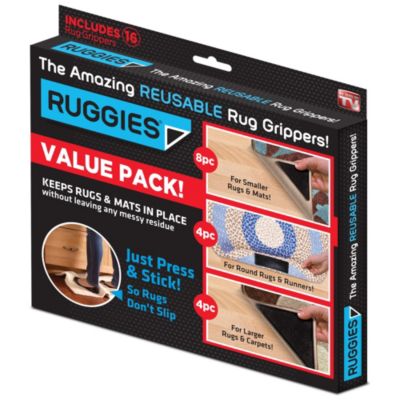 Ruggies™ 16-Piece Non-Slip Rug Gripper Value Pack
Place Ruggies Amazing Reusable Rug Grippers in the corner of any rug to help it stay put on hard floors, tiles or linoleum, and prevent bunching, curling, slipping and tripping.
Also check out:
$5.99 - $44.99

Exclusively Ours

(12 Reviews)

$12.99 - $49.99
(7 Reviews)

$44.99 - $171.99
(2 Reviews)

$39.99 - $599.99

Exclusively Ours

$39.99 - $599.99

Exclusively Ours

$14.99 - $19.99

Exclusively Ours

(59 Reviews)
$14.99

$9.99

Clearance!

(23 Reviews)

$29.99 Each
Oversized
(27 Reviews)

$14.99

Exclusively Ours

(40 Reviews)
$5.99

Clearance!

(12 Reviews)

$24.99

Clearance!

Exclusively Ours

$24.99

Clearance!

Exclusively Ours

(1 Review)