BRITAX Parkway SGL Booster Seat in Cub Pink
Safely seats children 40 to 120 lb
Supports children 38" to 63" (with backrest)
Booster Seat in Cub Pink
ISOFLEX Flexible Lower LATCH Connection System secures booster to seat and prevents from becoming a projectile during a crash
SecureGuard
True Side Impact Protection
Quick-adjust harness restraint
Color-coded vehicle belt guides
High density comfort foam for an extra layer of padding
Removable back allows booster to convert to a backless booster while maintaining safety
Armrests to provide natural place for arms
Retractable cup holders
Durable and washable cover
One-year manufacturer's warranty
Booster weighs 12.5 lb.
Dimensions 15" L x 18" W x 28" H
Imported
Model E9LM44X.
SKU # 41540282
BRITAX Parkway SGL Booster Seat in Cub Pink
18
18
Great car seat
love this car seat, and completely trust the Britax name
July 10, 2014
Fits Well in Vehicles
The Parkway is a good booster seat. It fits well in cars and SUV's, it's lightweight but not cheap feeling. My daughter LOVES the cup holders and she has been comfortable in it for all car rides so far. My only complaint is that the high back piece comes off too easily from the bottom, seat piece. I do worry it won't last very long because some of the plastic is already bent a little from the pieces coming apart while being carried and landing on the ground. They should fit more securley together. I've used nothing but Britax infant and convertible seats and have always felt they are safe, good seats.
June 22, 2014
Very comfortable
The Parkway SGL is a very comfortable car seat for my 4-year-old daughter. She loves feeling independent and she also loves having the cup holders so accessible. The seat is very easy to install in the car and we like that the car seat reclines easily with the seat. My only complaint is that our seat belt does not glide easily through the car seat's shoulder guide, which causes us to still have to be the ones to buckle our daughter in the car.
June 5, 2014
My toddler LOVES this seat!!!
I can't say enough good things about this seat. My 4 1/2 year old absolutely loves it. A primary factor in our choice of the Parkway SGL was the quality of its construction, its ease of use, and the flexibility it offers for child that continues to grow like a weed. Additionally, the aesthetics of the seat blend well from car to car in our family...a notion entirely lost on many other manufacturers.
June 4, 2014
Great seat!!
I just love this seat and so does my daughter. My favorite part is that it clips into the car so it won't move like other boosters. My daughter says its comfortable.
June 3, 2014
My child loves her new Britax Parkway SGL
Love the true side impact feature, base safe cell technology, and secure guard features. My child has enough shoulder and back room and feels comfy in the seat.Highly recommend getting a booster with an adjustable latch system. Overall, I am happy with my purchase. I have bought carseats and boosters from other brands, and I always go back to Britax. I also like how comfy this booster is during long rides. The fabric is not only stylish, but easy to clean. The reason why I only give 4 stars is because I wish it had a third latch to secure the back, and the head restrain is not as sturdy like the Britax Frontier 85 we had prior to this one. I still think is safe, and would like for Britax to improve these features.
May 13, 2014
looks comfy
This is first purchase of Britax and our son likes a lot compare to other one he had/have in other car!
May 10, 2014
Seems like a good seat but seems kinda loose at the top
My son and daughter-in-law bout 3 of these (one for each of their cars and one for my wifes mini-van). The instructions are a little confusing but not too bad. I just don't like the top of the car seat doesn't have some kind of back strap to connect to the latch at the bottom of the seat in back. I understand I will not be needing it when I convert it to just a booster seat. Just seems kind of flimsy and loose fitting until that time.
May 10, 2014
Ask your questions. Get answers from the community.
Ask your questions. Share your answers.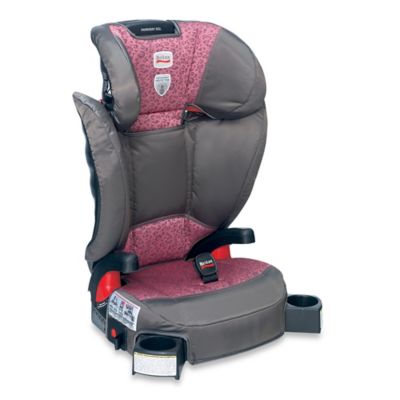 BRITAX Parkway SGL Booster Seat in Cub Pink
Posted by
Grandma
Saratoga Springs, NY, USA
 on
BRITAX Parkway SGL Booster Seat in Cub Pink
And if it can can i buy a replacement cover for it.
Posted by
Grandma
Saratoga Springs, NY, USA
3 weeks, 6 days ago
0
out of
0
found this question helpful.
Was this answer helpful?
helpful
0
unhelpful
0
http://answers.bedbathandbeyond.com/answers/2009/product/1041540282/question/1889021/undohelpfulness.djs?format=embeddedhtml&sessionparams=__BVSESSIONPARAMS__&return=__RETURN__&innerreturn=http%3A%2F%2Fanswers.bedbathandbeyond.com%2Fanswers%2F2009%2Fproduct%2F1041540282%2Fquestions.djs%3Fformat%3Dembeddedhtml%26scrolltotop%3Dtrue%26expandquestion%3D1889021&user=__USERID__&authsourcetype=__AUTHTYPE__&submissionparams=__BVSUBMISSIONPARAMETERS__&submissionurl=__BVSUBMISSIONURL__
Answers
Answer: 
No, it is not recommended to use the BRITAX Parkway SGL Booster Seat in Cub Pink any longer, as it has been over 6 years from the date of manufacture.
Posted by
Additional information about CustomerServ2 could not be loaded.
2 weeks, 5 days ago
0
out of
0
found this answer helpful.
Was this answer helpful?
helpful
0
unhelpful
0
http://answers.bedbathandbeyond.com/answers/2009/product/1041540282/answer/1844190/undohelpfulness.djs?format=embeddedhtml&sessionparams=__BVSESSIONPARAMS__&return=__RETURN__&innerreturn=http%3A%2F%2Fanswers.bedbathandbeyond.com%2Fanswers%2F2009%2Fproduct%2F1041540282%2Fquestions.djs%3Fformat%3Dembeddedhtml%26scrolltotop%3Dtrue%26expandquestion%3D1889021%26expandanswer%3D1844190&user=__USERID__&authsourcetype=__AUTHTYPE__&submissionparams=__BVSUBMISSIONPARAMETERS__&submissionurl=__BVSUBMISSIONURL__
Related Searches:
Similar Products:
Also check out:
Twin $99.99 - King $179.99