Ninja® 16-Ounce Single Serve Cups with Lids for Ninja® BL660 Professional Blender (Set of 2)
Dishwasher safe
Imported
Model# XWP002CS
>
SKU # 41269404
Ninja® 16-Ounce Single Serve Cups with Lids for Ninja® BL660 Professional Blender (Set of 2)
7
10
Ninja cups
These do not fit on the blender and the lids do not close like the single serve cups at the blender comes with.
September 13, 2014
does not fit
these do not fit the Ninja machine that they say they fit, very disappointing.
September 2, 2014
Finally available!
We love our Ninja blender and especially like the single serve cups for quick smoothies. Two came with our blender, but we cracked one and lost one. Have been using the cracked one for a year anyway, just holding the crack closed while blending. So glad we can finally order replacements. These fit our original single serve blade perfectly. Very happy.
August 12, 2014
Ninja single serves
Ordered at my local Bed Bath & Beyond. Very helpful clerk and quick delivery. Thanks
August 4, 2014
Not quite the same quality
I purchased these because I thought they would be the same as the cups that came with my Ninja blender. However, these seem cheaper quality and do not have the markings for 8 oz, 16o oz, etc. The lids also don't a cover over the hole so you can seal your drink. These work but they just aren't the same quality that comes with the blender.
May 21, 2014
Did not fit my ninja blender
This has 4 prongs and my ninja only has 3 prongs.. Did not work for me.. Will be sending back.
May 20, 2014
Does this product even exist?
I bought the Ninja Blender 2 months ago. It was supposed to come with two of these cups but didn't. I returned it to the store and got another one. After trying the cups out they were one of the best parts of the product! So I came onto the website to see if I could buy more. But the Ninja Blender site did not have them up for sale and neither did Amazon or BB&B despite having pages with the item up for sale. I gave BB&B my email asking to be notified when the product was in stock. I got that email today and yet these cups still aren't in stock! I now believe 3 things. 1. The unit I bought without the cups was a theft because the cups are so awesome people would do anything to get more of them. 2. The cups are not available for separate purchase despite being advertised that they are. 3. BB&B sends out false emails that products are instock when they are not so do not trust this website to notify you of a return product. This is the 5TH time I've gotten such an email that was false. 5/5 times! Never once has this damned site actually notified me that a product is back in stock that actually is! Even when I get the email and 2 minutes later check the site then wait a bit... still nothing, not available! I would have given this product 5 stars if I actually believed it exists for separate purchase from the blender bundle it self.
November 16, 2013
Related Searches:
Similar Products: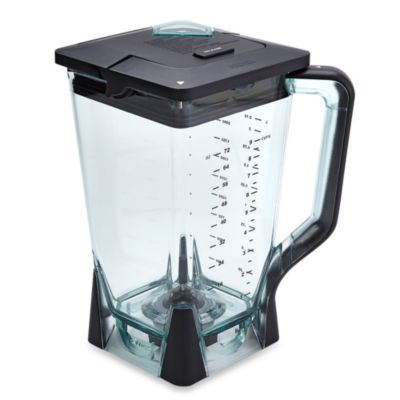 Ninja® 72-Ounce Pitcher with Lid for Ninja® BL660 Professional Blender & Single Serve
Price:
$34.99
Brand:
Ninja
This 72-ounce, square-shaped replacement blending pitcher with capacity measurements and a lock-in lid with pour spout is designed for use with the Ninja® BL660 Professional Blender & Single Serve. BPA free plastic construction.
Also check out:
$139.99

Exclusively Ours

(35 Reviews)
$14.99

Exclusively Ours

(4 Reviews)

$12.99

Free Standard Shipping

(32 Reviews)