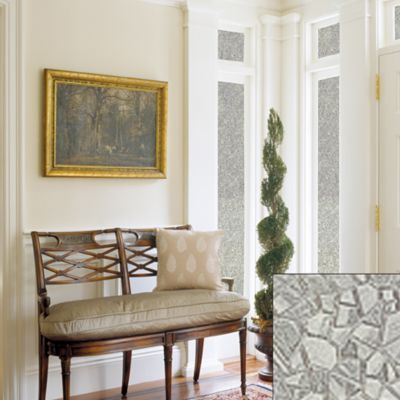 Decorative Privacy Film Sidelight Glass Cling in Mosaic
The film refracts light to create a textured, etched glass look, and blocks 95% of harmful UV rays.
Just wet and smooth for easy self-cling application.
It is repositionable for accurate installation and 100% removable without any residue.
Measures 78" H x 11 3/4" W.
Use on doors, patio doors, glass cabinets, windows and shower doors.
SKU # 17828630
Decorative Privacy Film Sidelight Glass Cling in Mosaic
2
3
Great for office windows
Purchased this for privacy in a medical office. Very easy to install and remove, if needed. Looks great for this purpose. Just put it up today, so only time will tell if it actually continues to adhere.
August 20, 2013
mosaic privacy film
We just moved to a new house and I got this for a long sidelight by the front door. It was easy enough to install and it did what I wanted it to - it lets in a good amount of natural light while still providing us with some extra privacy. That being said, I think it looks really plastic-y and kind of cheap. I'm viewing this as a temporary solution and I will probably replace it with something a little nicer in the near future.
May 16, 2013
Related Searches:
Similar Products: