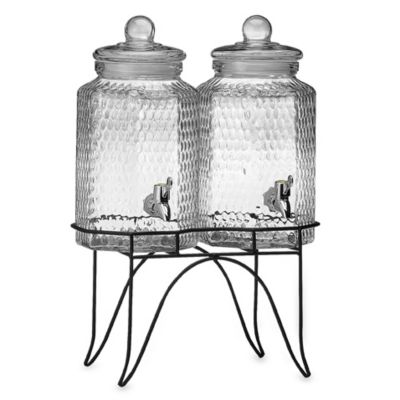 Del Sol Double Beverage Jugs on Stand
Glass jugs have spouts for easy serving.
Each jug holds a gallon.
Hand wash.
SKU # 17122185
Del Sol Double Beverage Jugs on Stand
31
32
PERFECT!
Bought this the other day after reading the mixed reviews. I made sure when we assemble the spouts that we made sure they were properly screwed in tightly. The set looks great and did NOT leak one drop the whole day! The only reason I did not give this 5 stars is because the spouts are cheap plastic and I dont think they will last long before being broken (on accident I am sure!). If they were even a more solid plastic I think it would be better but they seem pretty flimsy. Regardless, it is a great price for 2 canisters and the perfect size! We used one for a mixed drink and one for a non-alcholic drink.
July 22, 2013
A bit dissapointed
I read the reviews before purchasing and was aware of the issues with some leaking, but I still purchased any way, well when I got it, I noticed right away that one of the washers was missing. I hate returns and exchanges, but this one will have to go back and I'm not sure if I am still willing to chance the nozzle leaking.
June 6, 2013
Beautiful, but leaks.
I love this, but the spigots leak. They are made of siIver-colored hard plastic. I prepared and filled the containers and put in the fridge to chill overnight. The next morning there was quite a mess in my fridge. I plan to try and seal the spigots because it is too much hassle to return. Hopefully it will work, because the size is perfect and they are very elegant.
May 8, 2013
Great for Parties!!!
I borrowed this for my daughters shower. It was so Beautiful on the counter with drinks in it. The spout tried to leak. So we poured out the liquid an tightened the spout from the inside an re-filled it an it was fine. Worth the money to have on hand for BBQ's or Parties.
April 17, 2013
Great for Parties!
I have had these beverage jugs for 1 year now. They are great for parties and showers! Guests always compliment them. I have bought 3 additional ones as gifts for people. Never had a problem with them leaking yet!
March 17, 2013
Good Value
I bought the product with limited expectations. Knowing I was not paying a lot I didn't except it to be amazing. The stand seems a bit flimzy but it held up the two glass jugs full of beverages no problem. The only real issue I had was leaking. I was careful to make sure everything was assembled correctly but both the jugs leaked throught the spout because they were not tight enough. I had to dump out the beverages retighten and pour them back in. Once I did that I didn't have an issue. Somethign to be cautious about. I've only used it once so far, but as long as I as get 10 or so uses out of it I'll be happy.
July 16, 2012
Do Not Buy This Product
I purchased this product for a family bbq. Had my drinks dispensers all set up and poured the sangria in. They leaked all over the counter top. The glass on the side of one of the drinks dispensers was all cracked. I highly would recommend on not wasting your money on this product.
July 12, 2012
Double beverage jugs
Dont waste your money. Very poor quality dispenser
July 1, 2012
Related Searches:
Similar Products:
Also check out:
$19.99

Clearance!

(38 Reviews)

$29.99

Exclusively Ours

(20 Reviews)

$10.99

Free Standard Shipping

(73 Reviews)

$29.99

Exclusively Ours

(16 Reviews)