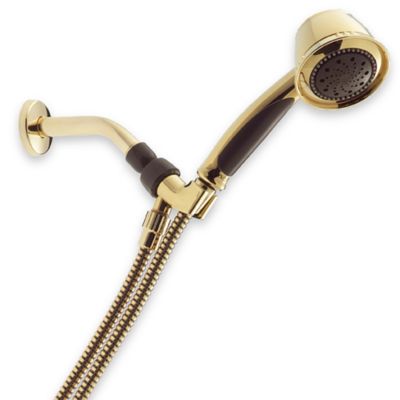 Delta 5-Spray Brass Finish Handheld Showerhead
Handheld also features an internal waterway for ultimate durability and a 6' tangle-free flexible hose.
Slight assembly with a wrench or pliers and plumber's tape.
Lifetime warranty.
Model # 75520PB.
Showerhead flow rate is 2.5 gpm (9.5 L/Min.).
SKU # 15866527
Delta 5-Spray Brass Finish Handheld Showerhead
8
9
Good Match
Was pleased to find this brass shower head. Most stores only had chrome. It was a replacement for my older brass shower head. Had a bigger head with good adjustment for spray. If you let it hang loose it gets the kink out. Didn't like the black shower mount but it matches the black rubber area of head.
June 30, 2013
Necessary Purchase
We needed a brass finish product and this is the only one we could find and we had to order it on-line. Delivery was speedy. The product functions just as indicated on the package. I would recommend it. My only complaint is that is looks a little on the cheap side because it is made from plastic. Not sure how it will hold up but am hoping for the best.
June 27, 2013
Brass Shower Head with Hose
The shower head looked great but the hose was kinked in the middle.
February 13, 2013
Flaw - black shower mount
This is very easy to install and water flow is fabulous. My big complaint is visual - the brass shower mount from the old hand held unit, but I don't know. It seems for this price the shower mount should have been brass!
August 4, 2012
Fair
Delivery of product was excessively delayed. Installation was remarkably simple but, it is impossible to turn the head if your hands are soapy so, if you like to save water by shutting it off while lathering it is irritating to have to rinse your hands from the spigot before being able to turn the head back on.
July 18, 2012
Love this product!
This Delta brass finish handheld showerhead is the best one I have ever owned. I recommend it highly..
February 29, 2012
Great Bathroom Addition
We purchased one of these for our master bath and have now put one in every shower! They are very easy to install and are a great addition to any bathroom.
October 20, 2011
Great Choice!
Great shower head, elegant looking, great water flow, and a great price.
June 8, 2011
Related Searches:
Similar Products: