Denmark® Mini Three-Piece Egg Poacher in Red
Set includes:

Small covered saucepan
Egg poacher tray

Riveted stay-cool, silicon-wrapped chrome-plated handle adds to its durability
Egg poacher is removable so the pan can be used as a mini saucepan
Hand wash
Limited lifetime manufacturer's warranty
SKU # 14672486
Denmark® Mini Three-Piece Egg Poacher in Red
2
2
Great for medium eggs
I like my yolk to run, but don't like the whole egg runny. I just pop in an egg, put it on medium heat, and cover it with the lid. I monitor it so it doesn't overcook, and voila, you have a great medium egg, without flipping and comes out of the pan effortlessly without stick. No need to put anything on the surface before putting the egg in. Truly non-stick.
March 12, 2013
Garbage
This is garbage. The handle is too heavy and not counter-weighted, so it can't sit flat on a stove or counter unless there's something in it. As soon as you remove the egg tray, the little pan tips over into the fire. Totally useless waste of money.
September 14, 2012
Related Searches:
Similar Products: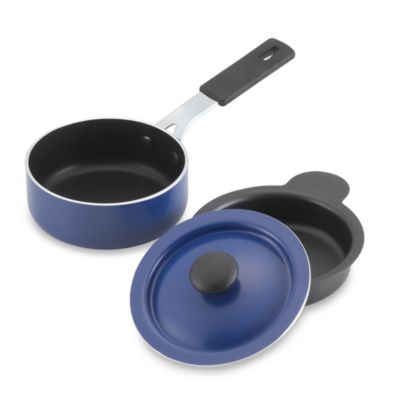 Denmark® Mini Three-Piece Egg Poacher in Blue
Perfect for single-serving cooking, three-piece egg poacher set will have you poaching eggs with ease. Its fashionable enamel exterior finish and non-stick interior egg poacher tray allows for easy clean up.