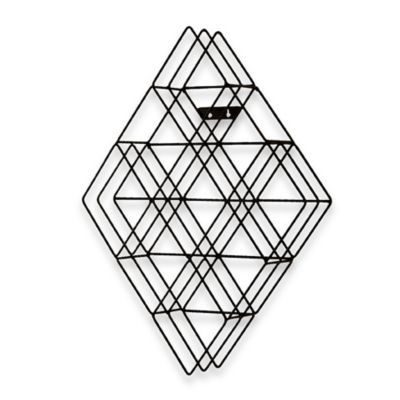 Diamond-Shaped Wall-Mount CD Rack
Holds up to 108 CDs.
No assembly required.
Measures 19" W x 5 1/4" D x 25 3/4" H.
SKU # 16602876
Diamond-Shaped Wall-Mount CD Rack
6
6
CD Rack
I found this item on line and was very pleased when it arrived and takes up little space, great design and is a special addition to my wall decor... I will be purchasing another rack in the near future... and will recommend highly to friends to purchase this item..j
April 21, 2014
cd wall mount
a very attractive wall piece ,almost left it empty
May 10, 2013
Stylish way to store cds
I have a big box full of cds in storage and wanted to be able to get at them without digging into the box. I also wanted to get them off the floor to make more space and this cd rack did the trick. It looks great filled to the brim and can also look nice half filled with some alternate placing of cds. This only fit about half my cd collection and I am about to buy a second rack for the other ones. Looks great, like a 3-d piece of artwork on the wall.
October 3, 2012
space saver cd rack
I love this cd rack. It saves space if you're limited on what to do with your cd.s and dvd's. I would recommend this product.
August 1, 2012
Fabulous!!!!
They are perfect and look outstanding on my walls. I searched and searched for an item like this and was totally ecstatic with its quality and look. Get it you won't be sorry!
July 17, 2012
Exactly what I was looking for
I have tons of cd and I was running out of room to put them. I ordered this wall mount rack and it is perfect! Fits plenty of cds plus it looks really cool on the wall. I can get all my cds up off the floor and make more space in my room. I am ordering my second one now!
August 22, 2011
Related Searches:
Similar Products:
Also check out:
$11.99 - $14.99




$9.99 - $11.99

Clearance!

(8 Reviews)

$19.99 - $79.99

Exclusively Ours

(85 Reviews)

$19.99

Exclusively Ours

(12 Reviews)
$1.39

$0.99

Clearance!

(9 Reviews)

$7.99 Each

$5.99 Each

Clearance!

(6 Reviews)

$11.99

Free Standard Shipping

(47 Reviews)

$19.99 - $39.99
(22 Reviews)