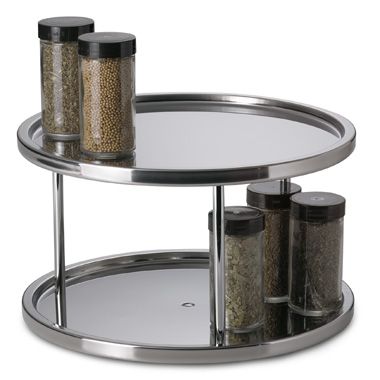 Stainless Steel Two-Tier Turntable
Turntable is even ideal for organizing frequently used items in your office or bathroom
Measures 10-1/2" in diameter and 6" high
SKU # 12981473
Stainless Steel Two-Tier Turntable
9
13
Best ever!!!
Very good quality and looks so nice in my cabinet.
September 1, 2014
Stainless steel turntables
These are great and good-looking too. They replaced two very old, cracked plastic ones that didn't turn easily in the cupboard. Now all my spices are easily organized alphabetically, viewed, and received.
August 18, 2014
Perfect solution to our problem
This is not available in the store, so we had to order to order it online. It came quickly and was easy to put together. I feel the bed bath and beyond is always a little bit pricey regardless of what you were trying to purchase. Since it was not available in store we did not have to pay for shipping. It is sturdy, looks pretty enough to put out on the counter or you can hide it away in a cupboard, and it solved our problem perfectly.
August 11, 2014
Really sturdy and useful spice turntable
I was excited to find this turntable, as I needed to replace a flimsy plastic one that just couldn't handle the weight of all my spices. This one operates smoothly, even though fully loaded with jars. Am thinking of buying a couple more.
August 6, 2014
soooooo great!
this turntable is just so perfect for organizing in small and tight spaces - holds a multitude of spice jars and the racks turn smoothly and easily. excellent choice!
August 5, 2014
Product very durable
I had had a plastic turntable for several years, it broke, and I needed to replace it. I use it in my kitchen cabinet for spices. The plastic one always was wobbily, this new stainless one is much more sturdy and I'm sure will last a lot longer. I shopped for it on line and went to store to buy, they didn't have it however ordered it for me with much efficiency. It arrived within a few days and I was able to put together and use it right away. Very pleased with it. Thank you. I always am pleased with your service and help.
August 4, 2014
almost perfect
This turn table has a smooth action... only wish that it was 8 inches in diameter so I could fit two inside my cabinet that would hold all of my spices.
August 4, 2014
great produce
This items fits perfectly in my cabinet and I am very happy I got it. It saves space and I can more easily find my spices when cooking!
July 31, 2014
Related Searches:
Similar Products:
Also check out:
$14.99 Each

$50 Bonus Gift card with $300 Calphalon Purchase

(4 Reviews)
$14.99 - $19.99
(24 Reviews)

$4.99 - $8.99
(7 Reviews)

$11.99 - $16.99
(6 Reviews)

$14.99 - $19.99

Exclusively Ours

(57 Reviews)

$7.99

Exclusively Ours

(24 Reviews)

$19.99 - $24.99

Exclusively Ours

(6 Reviews)

$9.99 Each

$50 Bonus Gift card with $300 Calphalon Purchase

(7 Reviews)

$19.99

Exclusively Ours

(10 Reviews)

$49.99

$50 Bonus Gift card with $300 Calphalon Purchase

Beyond Value

(65 Reviews)