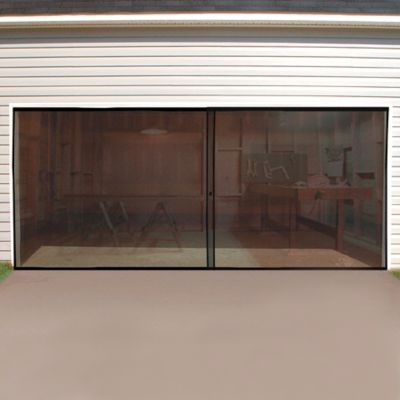 Double Garage Screen Door
The screen hangs from your garage door opening and installs in minutes using grommets and a simple hook-and-loop tape.
Magnets keep the screen closed while a weighted bottom keeps it in place.
Double garage screen door measures 7' H x 16' W.
Includes all hanging hardware and accessories.
SKU # 17519808
Double Garage Screen Door
6
6
No more mosquitos! Easy to install.
Lightweight and easy to handle, this was easy to install and fit our garage perfectly. We set ours up on a wire cable so we could slide it open and closed easily when we want to put our car in. The pole weights work well and are a good idea. I think I read that we were supposed to put sand in them, but they work great without it. A few mosquitoes sneak in when you're not using it, but nothing like it would be if we were without it. Keeps them from coming into the house as well; hurray! We bought a really nice heavy mosquito curtain from the website with that name, and set it up around a patio. It works great too, so if you want something a bit heavier and more substantial, try them. Our neighbors are impressed with our new front yard living room. We live in a townhouse with very limited outdoor space, so this is wonderful now that cooler weather is on its way. (and no, in Houston, cooler weather doesn't usually mean the end of mosquito season!).
October 6, 2014
Nice product
Needs a reinforcing pad for magnet areas. Mine is already ripped in that area. Fits the garage perfectly and wards off the pests. Highly recommended. Al G. C., Killeen, TX
July 29, 2014
Garage screen
I ordered this based on someone's positive review. It's so flimsy it wouldn't last a day. I didn't even take it out of the package. I returned it to a local BBB store. It's really annoying to order something in good faith and get stuck with shipping. It's got to be a waste of time for bed bath beyond for me to order this junk then have to take it back. Amazed for such a good store that they'd even sell this. Very disappointed all around. :( I hope this review will prompt them to get rid of this item and actually supply something durable and worth considering.
May 6, 2013
Garage Door Screen
Product would be fine on some older double garage doors however some houses have an opening of 19 feet. The standard 16 foot width will not work for your double garage. You should eithr make or allow a special order for the exact size needed as it is a good idea.
October 15, 2012
Love it
I used 2 to close in a large porch. It is about 4in to short but just works.
April 3, 2012
LOVE IT!!!!!!
I loved it along with everyone at my housewarming!
August 31, 2011
Related Searches:
Similar Products: