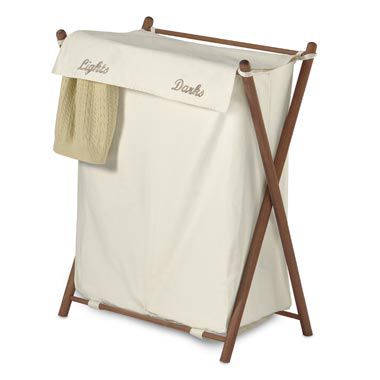 Double Sorter Folding Wood Hamper
"Lights" and "Darks" are embroidered on the overlapping flap
Bags are made of polyester
Measures 26" W x 14" D x 32" H
SKU # 12265328
Double Sorter Folding Wood Hamper
13
13
Sorter bag not canvas
I already owner another one of these hampers when I ordered it. My other one came with a canvas bag. This new one has a synthetic material bag. We'll see how it holds up but I have my doubts. The product is represented as having a canvas bag.
August 4, 2014
Double Storter Folding Wood Hamper
I have only had this a few weeks and am very disappointed with it. The wooden legs and bottom supports are light weight and constantly popping out of their holes. I have to reassemble it every time it is moved even slightly. The bags are not canvas.
April 18, 2014
very happy with this product
I am very happy with this product. It holds a lot of laundry. It looks nice in my bedroom and I can keep my laundry sorted.
April 14, 2014
Poor Quality for the Price
Original Review shortly after purchase: I purchased this item at my local BBB after viewing it online. I was expecting better quality materials. The legs are made of wood but a very light weight, easily warped wood which causes this item to not sit firmly on the my laminate floors but instead is wobbly when empty or nearly empty. Also the canvas portion is not what I had in mind. It is a plasticy material that does not feel as breathable as regular cotton canvas. The size is great, it is only 14 inches deep which is nice to not take up too much room in my small laundry area. It is tall (almost as tall as my washer and dryer) and can fit ~1 large load of laundry per side. Updated review ~ 2 years later: The canvas material has held up well but the velco flaps holding the canvas on the frame is loosing it stickiness. With the weight of laundry in it they don't stay on and end up snagging my clothing as I take it in and out of the bags. Also, the stain on the wooden legs leaves a hard to clean mark on the wall each time it rubs on it. Will be replacing this hamper with something more durable for not too much more $$.
August 17, 2013
Durable but.....
I have had two smaller versions of this exact hamper. I gave it three stars because it IS structural sound but......there's an insert inside that gives the bottom of the hamper a base. It's impossible to clean due to the fact that it is hard cardboard WITHOUT a removable fabric cover. Therefore mold has formed.....I'm not happy at all with this.
August 17, 2013
Disappointed
I had purchased this hamper several years ago and wanted another one. When this one arrived it was not to the quality of the original one. The fabric is not true fabric more of a plastic/fabric feel and the wood is a darker color and the entire hamper is smaller in size. So I was disappointed. With that said if I had not seen or had the original one I might have been okay with it.
May 8, 2013
Good Product
I really like this product. Yes, it is a bit pricey, but all in all, it's really cool looking. I don't know why some people were complaining about putting it together because mine came put together already, and when I took off the bags to do the laundry, I had no problem putting it back on. I do agree however that the "poles" are not actual wood, so the description is sort of deceiving.
May 2, 2013
Fabulous!
I love this hamper. It is beautiful and enhances the decor of my bathroom. It is sturdy and accommodates a lot of dirty clothes on each side.
January 31, 2013
Related Searches:
Similar Products:
Also check out:
$59.99 - $79.99

Beyond Value

(198 Reviews)

$19.99

Exclusively Ours

(38 Reviews)

$29.99 Each

Beyond Value

Exclusively Ours

(23 Reviews)

$399.99

$50 Bonus Gift card with $300 Calphalon Purchase

(17 Reviews)

$14.99

Beyond Value

(57 Reviews)

$29.99 - $79.99
(142 Reviews)

16 Piece Set $59.99
(7 Reviews)