Hurricane® Spin Mop
As Seen On TV
Hurricane® Spin Mop features a special head that creates a powerful, gravity defying suction that inhales dirt off the floor and into the mop
360º swiveling head
Lightweight alloy handle can lie flat for easy storage
Great for cleaning any surface including hardwood, marble, laminate, ceramic tile, and more
Includes mop, bucket and microfiber mop head
Machine washable
Imported
SKU # 41958063
Hurricane® Spin Mop
50
54
Removing mop head
The easy way to remove mop is to turn mop over and take a sharp instrument to lift up blue plastic lip. Pull mop away from base.
September 17, 2014
Best For my Needs Ever
I don't have time to clean - this mop is amazingly efficient. I have large dogs with lots of long fur and lots of fine dirt on a tiled downstairs. This works well not only for the convenience of getting under and around furniture and the powder room fixtures, but also for picking up the fur off the top of a large area carpet; also a quick sweep of the hall closet floor and the tops of the coco runners in front of the dog door and slider. Also the top of the hearth and under the kitchen appliances, as well as water bowl mishaps. Every other day I need to get the dirt off and it works - just be sure to get a second mop head - there ought to be two in the initial box and a Duster head for the price.
September 17, 2014
not Happy
Bought this mop a few month's ago. Used 2 times and now the spinning mechanism is broken.Piece of garbage..
September 6, 2014
Great if it were durable
This product was fantastic and worked very well - for about one month - being used once or twice a week. Then it just stopped spinning. Now it slowly spins one time around and the mop is still dripping with water. If it were more durable, it would be worth the money.
August 21, 2014
BEWARE-HORRIBLE
I was so excited to get this and put it to use but at this point I would have given it negative stars if allowed. Brand new out of box it was missing pieces, when using it the mop head does drip water, the head doesn't even spin or remove AT ALL, and the bucket is missing the part that spins the water and head to remove the dirt. After calling a dozen numbers I finally found a person and they were unhelpful in every way possible. I would not recommend this to anyone, it didn't do anything amazing and definitely did not make my cleaning of the floors and walls any easier. Almost everything they say in the infomercial was a lie. I was very sad that it was such a disappointment.
July 25, 2014
Awesome mop !
I have tried many types of mops over the years and this mop by far is the best Ive ever had ! I hate mopping but now its so easy and quick to get done. I am considering getting one for my mother in law for her apt. I would definitely recommend this product !
July 19, 2014
Mop and Clean with Ease!!
I have a bad knee, and sometimes experience Sciatica in my leg and lower back. It's very difficult to clean my house without hiring a maid, which most times I can't afford. This mop tremendously helps me to stay independent and mobile. I am able to mop my own floors and I also use it to clean/dust unreachable areas. Not sure if this would be a good buy for people who have a large floor space to clean, but it works well for us apartment dwellers.
July 6, 2014
A WASTE OF MONEY
This has to be one of the worst mops I ever bought. Don't believe what you see on TV! First of all the mop strings are too short and the mop constantly is tilting on it's side. Your wasting more time fixing the mop to go the right way. It's rediculous......
June 28, 2014
Related Searches:
Similar Products: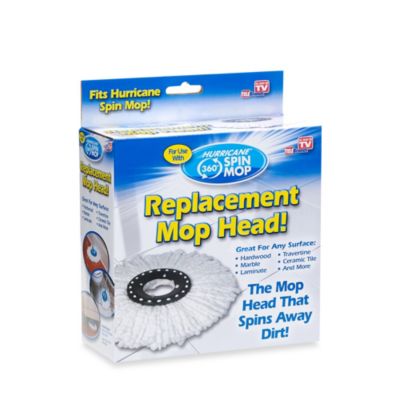 Hurricane® Spin Mop Replacement Mop Head
Price:
$9.99
Brand:
As Seen on TV
This super absorbent replacement microfiber mop head is designed for use with Hurricane Spin Mops. Great for cleaning any surface including hardwood, marble, ceramic tile, travertine, and more. Machine washable so it can be used multiple times.