Purest Palm Body Brush
May also be used wet.
Measures 9" long.
SKU # 10474574
Purest Palm Body Brush
4
4
Purest Palm Body Brush
I have been using this body brush for years. It is the best. It's natural. The right length. Good grip with short handle. Texture great for exfoliation of dry skin.
September 12, 2014
One of the best dry brushes around, but ...
This is one of the best dry brushes I have used so far. However, three weeks in, (twice daily usage) the wrapping around the handle started to separate, which feels a bit prickly when held, as some of the short fibers underneath the handle wrapping now stick out. However, the brush part itself is great, with only a bit of wear. Soft enough to polish, firm enough to be effective, and all natural. I still recommend this brush to my friends and family and will repurchase as needed.
May 18, 2014
Nice brush!
After learning about dry brushing skin, I tried this brush and love it. Go gentle at first until your body becomes adjusted to being dry brushed. Skin feels wonderful after dry brushing with this brush. Don't forget to read how to dry brush, if you have never done it before. There is a method.
January 11, 2013
Good for dry brush treatments
Ever heard of dry brushing? Its great for stimulating circulation, light exfoliation, detoxs, and helps with overall skin appearance. You should do it everyday before you get in the shower. Make sure you brush up from you extremities, on the stomach go in a circular motion (helps with digestion), brush down on the chest. Btw it also helps improve the appearance of cellulite. I've tried a bunch of different brushes, this one is by far the best. It lasts for a long time.
March 14, 2012
Related Searches:
Similar Products: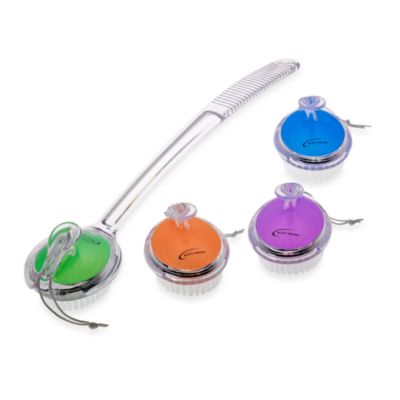 Aqua Palm™ Bath Brush
Price:
$7.99
Colors:
blue, green, orange, purple
Categories:
College > Wash > Shower Curtains & Accessories
This versatile bath brush with an extra-long 18" handle allows you to clean and exfoliate from head to toe without reaching and bending.
Also check out:
$29.99 Each

Beyond Value

Exclusively Ours

(23 Reviews)

$39.99 - $59.99
(101 Reviews)
$19.99 - $29.99
(105 Reviews)

$19.99 - $24.99

Exclusively Ours

(9 Reviews)

$29.99 - $49.99
(42 Reviews)