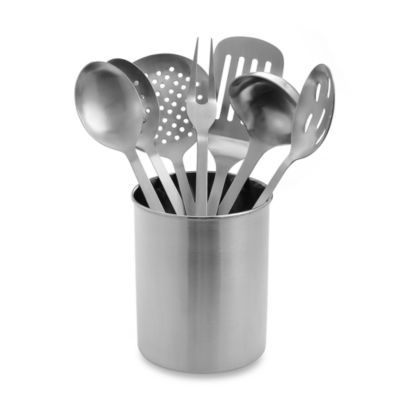 Eight-Piece Stainless Steel Kitchen Utensil Set
Holder measures 6 1/2"H x 5 1/2" dia.
SKU # 11915140
Eight-Piece Stainless Steel Kitchen Utensil Set
4
5
Ehhh
These look great from far away but theyre really flimsy and bend easily. I wouldnt cook with them or run them in the dishwasher. But I do use them for serving and it does its job.
May 23, 2014
Good Quality
Exactly as I expected. They are heavy duty, and work well with the new cookware I have. They clean well. They are very comfortable to use and they look nice on the counter by the stove.
January 7, 2013
There's a reason it's inexpensive
The utensils bend. But it's ok for a starter kit; vacation house; or if just want to go cheap.
October 23, 2011
Pretty, yet useful
This utensil set not only looks nice on my counter, but the tools do a good job. These utensils are large, so they're perfect for large gathering type meals.
March 23, 2011
Related Searches:
Similar Products: