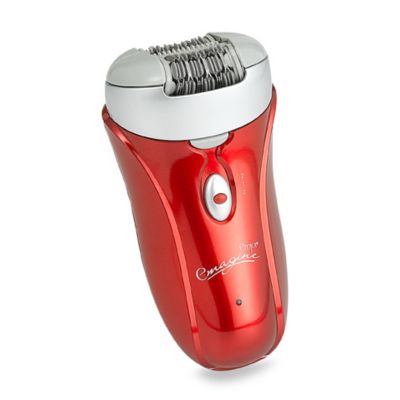 Emjoi® Emagine Tweezer-Head Epilator
Patented Glide Technology reduces irritation, and Silver Ion Technology provides antimicrobial protection to the unit
Dual-opposed heads gently hold the skin taut, making epilation more comfortable while covering greater surface area and grasping all the hair the first time
Middle lifting fingers prepare hair for removal by lifting flat or short hair, decreasing the possibility of ingrown hair
The unit is versatile enough for the entire body, including the face
AC adapter, cleaning brush and carrying pouch included
UL listed
SKU # 16765678
Emjoi® Emagine Tweezer-Head Epilator
9
10
For Legs it is great.
I like it for legs but for face it is difficult to pull hair. Also under arm pits is hard to do.
September 12, 2014
So so
This product was good for the longer hair but all the shorter ones were left behind
July 21, 2014
Choose the Braun/Phillips one instead
I do not recommend it. It is too bulky, heavy, uncomfortable to hold easily. Plastic gears which strip easily. I sent back to manufacturer who replaced it under warranty when it started skipping gears. The replacement only lasted another few months. My Braun is much better and works easier, less painful.
June 27, 2013
Great item
Love using it. It makes this job easy and fast for someone with a lot of hair to remove. And because it has 72 tweezer head it is faster and less painful I only wish it was chargeable too
April 20, 2013
terrible
I've been epilating my legs and underarm and bikini for already 10 years, and i never experienced worst epilation then with this emjoi epilator. It is slow and loud. I returned this one and will buy phillips or braun again. This one doesn't have 72 tweezers working. People that reviewed this one as great, probably never epilated their body hair.
March 27, 2013
great product but should be cordless for the price
This was shown in picture with no cord attached and discribed as having an "adapter". I was wrong assuming it was cordless. BBB needs to show cord attached in picture. Otherwise good product.
March 7, 2013
Love it!
My back is fused so I don't bend well. I live at the beach so shaving my legs is a must but it's so hard and painful for me that it's a rare occurance! Hubby helps wonderfully with my electric razor but it's an awful lot to ask of him a couple of times a week! Did a lot of research tweezing vs laser and decided on the Emjoi from other reviews as well as cost. Got it for a Christmas present from dear Hubby, though he was sure I wasn't going to like it. I read directions, took a nice hot shower, dried off with his help on my legs and let him have a go at it! To me, it's no worse than using my electric razor when the hair is long (it pulls)! Yes, it's tweezing but the pain is very tolerable, though I do have a high tolerance for pain.. Even tried it on hubby's shoulder and he said it wasn't as bad as he thought it would be! Afterwards, used an antibiotic spray and lotion, since my legs are so dry this time of year and it's been a week! Almost no stubble at all and I am loving it - feel "groomed" for a change and so much better about myself! Am now ready to try the underarm and bikini areas! I love it so far and as long as it continues to work, I'll be happy!
January 4, 2013
smart choice
This epilator works really well. It has the most # of tweezers out of all epilators out there (based on my research) which means less time. After the first few minutes of use, there is no pain at all. Hard to describe how or why, but there is a sense of numbing on your skin and you don't feel pain. I am very happy with it. Money well spent.
March 20, 2012
Related Searches:
Similar Products: