Epicurean® Natural Pizza Peel
The pizza peel won't dull knives, is extremely durable and maintenance free, and is heat resistant up to 350° F.
The nonporous surface prohibits bacteria growth.
Thumb hole is designed for easy hanging from a hook or pot rack, and the board's slim profile allows for efficient storage and handling.
Measures 23" L x 14" H.
Dishwasher safe.
Made in the USA.
NSF approved.
SKU # 14457607
Epicurean® Natural Pizza Peel
8
8
Pizza Paddle
This paddle is just the right size for me as I typically make 14" to 15" pizza's. It's strong enough but yet light weight. I have one made of bamboo that I really like too but it's much thicker and I like this one a bit more because it's thinner and easier to get the cooked pizza out of the oven.
June 11, 2014
Very easy to clean!
The handle could be a couple inches longer, but, I am very happy with the "over-all" quality of the product.
April 6, 2014
Nice
I didn't know what to expect. I have never owned a pizza peel before. Having used it once, it was what I wanted.
March 12, 2014
Just what your pizza needs
My husband has been making his own pizza lately. Got him the pizza stone, but found that a pizza peel is exactly what he needed. So far, no complaints. Easy clean-up too! I would recommend any home cook to get one of these. So many more uses besides pizza!
June 14, 2013
A must for home-pizza-makers
The quickest and easiest way to get your pizza both in and out of the oven. Great for cutting the pizza on after it cooks. It's a quality item that just feels great in your hands and looks great in your kitchen, Love it!
July 15, 2012
Love it, makes working with pizzas much easier!
I bake pizzas from scratch every week or so and I wanted a peel to help me get the raw pizza from my countertop onto the heated stone in my oven. The thin edge on this peel makes it really easy for me to slide the peel underneath the raw pizza and slip it onto the stone. It's a real time-saver and it keeps my pizzas from getting deformed when transferring to the stone. Definitely worth the modest price for that. I agree with the reviewer who said there's an unpleasant odor of resin or glue or something when wet. I also noticed the smell on the baked pizza if I let the pizza cool on the peel. But if you just use the peel to get the pizza in and out of the oven, the pizza doesn't pick up any odor. You could get an aluminum peel which wouldn't have the resin smell, but I prefer the look and feel of this product.
November 25, 2011
Ruined dinner
I've made pizza for the family (3 kids) every Saturday for the past two years. Our old wooden peel was cracking and I was excited when I saw this one. When I pulled the pizza off the stone I left it on the peel to cool. Big mistake! I came back into the kitchen a few minutes later to cut the pizza and about fell on the floor the adhesive smell was so strong - I tasted a small piece of the pizza and it was horrible - it had a formaldehyde taste to it. We had to throw out the pizza and come up with something else on the fly. Bed Bath and Beyond was great about the return but say away from this peel. Still looking for a peel to replace the old one...
May 27, 2011
Works Well, Smells Bad
This peel is durable, strong, heat resistant, and great to cut and serve on. However, when wet it smells like urine or formaldehyde. The odor is not as prominent when the peel is dry, and does not impart anything on the food. I would have selected a different peel with this knowledge.
January 9, 2011
Related Searches:
Similar Products: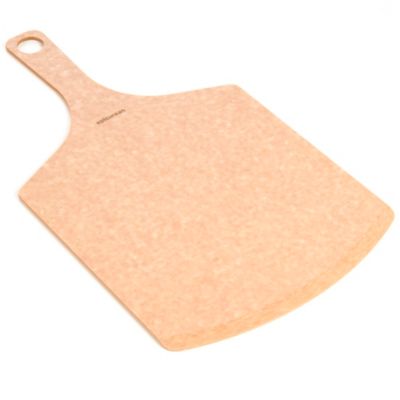 Epicurean® Personal Size Pizza Peel
Price:
$24.99
Brand:
Epicurean
Categories:
Kitchen > Bakeware & Baking Tools > Pizza Stones & Accessories
Transform your kitchen into a pizzeria with this Personal Size Pizza Peel. The surface is perfect for making pizzas, transporting them to and from the oven, slicing, and serving. This Pizza peel is a must have for any avid pizza lover.