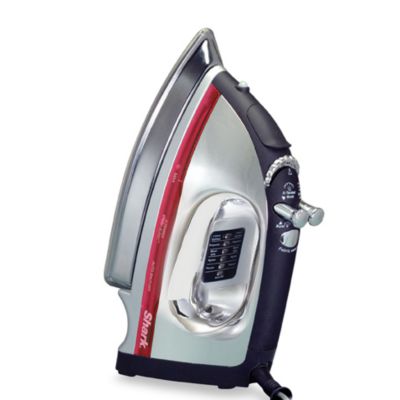 EuroPro® Shark® Professional Electronic Iron
The iron is self cleaning for optimum performance throughout the iron's life.
Additional features multi-position auto shut off, steam burst function, self-cleaning, spray mist, anti-drip, anti-calcium filter and advanced electronic technology shuts off the iron in any position.
Anti-drip prevents spitting at low temperature settings and anti-calcium helps to prolong the life of your iron.
1600 watts.
One-year limited manufacturer's warranty.
Model # GI435.
SKU # 17290673
EuroPro® Shark® Professional Electronic Iron
5
5
Horrible
Bought this about a month ago and it now leaks from the base when ironing with steam. Won't buy another Shark product!
June 16, 2013
excellent craftsmenship
Shark is usually no that good but this iron is making me change my mind about the products it put out . first this iron have a wonderful steam feature that blew my mind . and i irons clothes like nobody's business and i works great and i now have a new iron company thanks to the ceo and his crew who works hard to make great products the a ahead of everything else.m no if we can get a soft ice cream maker that would be cool.
May 13, 2013
Shark is Junk
I bought my third Shark from bed Bath and Beyond and to my amazement the thing just died. Not certain how long ago I got it but not long enough for it to quit unexpectedly. I think BB&B should stop displaying and selling this product. It is good when it works but it does not work for very long. Maybe this is the way Shark ensures that they sell new products. Just lost another customer "for life".
February 23, 2013
not a good product
I purchased this iron from bed, bath & beyond and it lasted about 6 months --then just died. waste of money. This is the second Shark iron I have purchased and both died after 6 months. I will not buy another one.
December 26, 2012
Bed Bath & Beyond is the best --- Shark the worst
Having posted a very negative review of a Shark Steam Iron and criticizing BB&B for carrying this inferior line of merchandise, I received a communication from BB&B who proved their 100% satisfaction guaranty. The product died 3 moths after the warranty ran out and they gave me a refund, which was totally unexpected. They have earned my lifetime loyalty. Well done BB&B it's nice to find a store that actually cares about it's customers. Of course I would never buy another product made by Shark.
August 12, 2011
Related Searches:
Similar Products:
Also check out:
$8.99

$50 Bonus Gift Card with $300 Lenox Purchase

Exclusively Ours