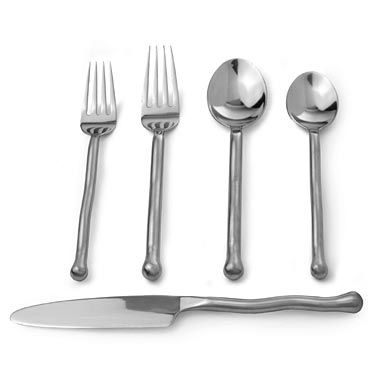 Gourmet Settings Exotique 20-Piece Flatware Set
20-piece set includes 4 each of the following: dinner fork, dinner knife, salad fork, soup spoon and teaspoon
Dishwasher safe
SKU # 11162240
Gourmet Settings Exotique 20-Piece Flatware Set
6
6
We love them :)
I am so picky about the weight of flatware and I absolutely love these. They are gorgeous and we have had no problem with rust, but we hand wash our utencils.
May 1, 2014
Unique and beautiful
We've had this flatware for almost a year and just love it. Not only is it beautiful, the weight and feel of each piece is very pleasing. We usually hand wash, but haven't had any problem with rust.
April 27, 2014
Do not purchase
These look nice, but as the other reviewer mentions they're very heavy and will rust after a few uses. I would return them but it's been too long. Do yourself a favor and look for other flatware.
July 8, 2013
Returned
This set was beautiful when we received it. The weight of it was too heavy though so when it's resting on your plate the end stem of it is heavier than the eating end so it will fall off your plate easily. The reason I returned the set was because of the rust. After only two uses the stems rusted out on several pieces. I didn't let them sit in standing water and we have a brand new dishwasher so I'm not sure why they rusted out so quick.
June 24, 2013
Very Nice
Me and the Bride, saw these on-line and were not to sure. I will say what a surprise when they showed up. they are real slighty heave and the shaping on the handle make them very nice to hold.
April 16, 2013
great for everyday use and aesthetically great
These are a great, modern flatware set. They are modern and unique. The brushed steel is beautiful, and the curves in the handles actually make them rest comfortably in the hand which is good because they are sturdy and heavy. I use them with my everyday as well as with my fine china. I haven't had any nicking or discoloration or any problems with them as of yet!
June 5, 2011
Related Searches:
Similar Products:
Also check out:
$129.99

Exclusively Ours

(1 Review)

$10.99

Free Standard Shipping

(51 Reviews)
$11.99

Free Standard Shipping

(13 Reviews)

16 Piece Set $59.99
(1 Review)

$14.99

Exclusively Ours

(30 Reviews)

$224.99

$50 Bonus Gift card with $300 Calphalon Purchase

(7 Reviews)

$174.99

$50 Bonus Gift card with $300 Calphalon Purchase

(2 Reviews)

Twin $19.99 - Cal King $34.99

Exclusively Ours

(56 Reviews)