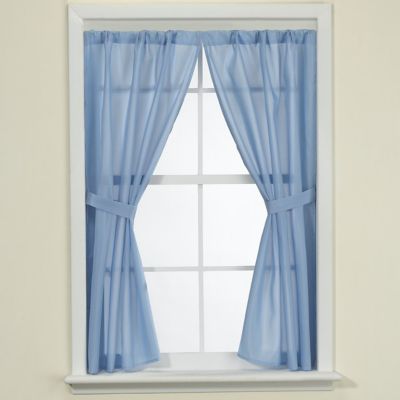 Fabric Bathroom Window Curtain
Each panel measures 36" W x 54" L.
100% polyester.
Machine wash.
Imported.
Shown: Two panels with matching tiebacks on a tension rod.
Fabric Bathroom Window Curtain
20
23
Love them!!!
Have been looking all over for bathroom curtains and so glad that I found them on your website, they are perfect color, fit and style.
July 21, 2014
Fabric is way to thin
Nice looking in the picture but the fabric is way too thin for my liking.
May 20, 2014
perfect shower window cover
It's been half a year and it hasn't molded, it lets through sunlight, and it prevents our neighbors from even seeing a silhouette while we shower.
August 12, 2013
Good Purchase
The fabric of the bathroom curtain panel is very good. I was disappointed in the tie back hooks. They did not work.
May 9, 2013
Great Curtain
I LOVE THIS CURTAIN. I had a terrible vinyl curtain on my window in my shower area. This water repellent cloth curtain is a fabulous addition. Thank you. Good bye to nasty vinyl.
May 8, 2013
good purchase
Kept one pair, retured the other. Only needed one pair.
April 24, 2013
not for me...
These were really cheap looking and feeling...went back immediately.
April 18, 2013
great buy
I used these for a bedroom and they looked great. The only problem I encountered was the sticky on the hooks were not very sticky. I had to use thumbtacks.
April 4, 2013
Related Searches:
Similar Products:
Also check out:
$24.99

Exclusively Ours

(3 Reviews)

$44.99

Exclusively Ours

(10 Reviews)

$49.99

Exclusively Ours

(3 Reviews)

$19.99

Exclusively Ours

(4 Reviews)

$39.99

Exclusively Ours

(3 Reviews)

$19.99

Exclusively Ours

(7 Reviews)

$4.99 - $6.99
(8 Reviews)

$4.99 - $5.99
(3 Reviews)

$7.99 - $9.99
(16 Reviews)
$15.99 - $19.99

Excluded from Pack and Hold

(10 Reviews)

$4.99 - $10.99
(1 Review)

$24.99

Exclusively Ours

(100 Reviews)

$24.99

Exclusively Ours

(26 Reviews)