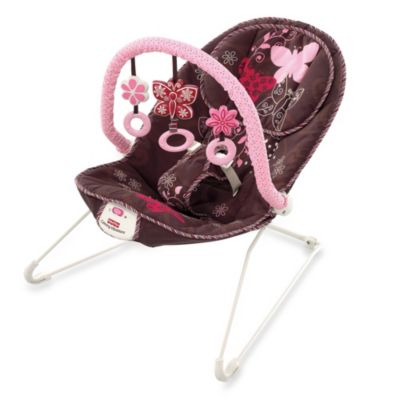 Fisher-Price® Mocha Butterfly Bouncer
When baby pulls on the center butterfly's ring, there's music to enjoy
When it's time to relax, just remove the toy bar, turn on the calming vibrations and let the bouncer cradle baby in the cushy seat
Includes machine washable pad with a three-point restraint and non-skid feet
Requires one D battery (not included) for seat
Maximum weight capacity is 25 lb.
Model T2520
SKU # 16822906
Fisher-Price® Mocha Butterfly Bouncer
4
5
Convenient and comfy for baby!
Our baby girl loves this bouncer - as long as she's content. She likes it after nursing, and will eventually fall asleep in it. If she's really fussy though, it doesn't really soothe her. She'd just rather be held. But we like the convenience of this bouncer - it keeps her safe and allows me to do a load of laundry!
September 12, 2014
looks great
hi! honeymommie here and i'm expecting again but its gonna be a girl this time. when my god mother gave me this for my baby shower, i felt soft and comfortable. when i lifted it up, it felt really light, which seems like it would be great for traveling. seems like a good product! cant wait for my baby girl to enjoy this seat!
April 8, 2012
great
simple, safe and sound, looks good and baby loves it! Thanks FP.
March 31, 2012
Not too bad...
It's a nice, little bouncer my wife and I were happy to receive as a gift. The vibration option is a nice touch, but the inability to adjust the backrest or the bar is a disappointing (you basically have to remove the bar to put the baby in). It plays a cute melody when the center ring is tugged upon, but that's about it. I wouldn't say it's flimsy, but I definitely wouldn't feel comfortable moving this bouncer from one place to another while the baby is in it. All in all, we're fine with it, but if I were to purchase my own I would look for something more.
November 3, 2011
Related Searches:
Similar Products: