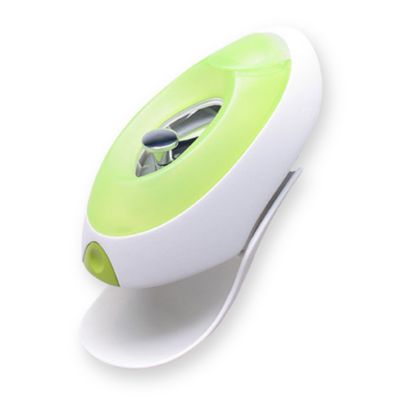 Boon Flo Water Deflector in Green/White
When the water is turned on, it is diverted into a stream that extends up to twelve inches in front of the faucet, creating a gentle waterfall and making rinsing hair easy
Soft material on the front edge of the Flo helps protect against injuries caused by bumping or scraping against the faucet
Fill the bubble bath reservoir and let children dispense bubbles into the water by pressing the button on the front
Fits most standard tub faucets
Adult supervision required
NOTE: Not intended as a toy
SKU # 14866051
Boon Flo Water Deflector in Green/White
5
5
Flo Water Deflector
I really love this! I was using a cup and trying to shield his eyes but it never failed that I would end up drowning my little one with water. This allows me to lay him back in one arm and use my other hand to help run the water through his hair... Great product! Mom or dad will get a little spray but over all it's GREAT!
July 13, 2011
Looks Neat...
This product is fun looking which is why I bought it. It does a good job. The only thing is it slides on the spigot very easy. I wish it would not move to ensure my daughter doesn't pull it off. So far so good! On the flip side my 10 month old loves putting toys on the ledge where the water flows out!
June 17, 2011
Does not fit all faucets
If you have an older faucet with the shower pull towards the back of the spigot, it won't fit. Only made for newer styles with the pull in the front half of the spigot (look at the photo).
January 30, 2011
Great Product
Installed it and have no problems with it. Some other reviews the people have complaints of mold building up but you have to have common sense and remove the deflector for it to air dry of the sitting water.
August 18, 2010
works, but could be improved
The spring mechanism holding cover on spigot could be stronger, it can slip off when water pressure is not kept to a minimum. Daughter loves the bubble feature, but it will leak if not kept upright. Could be a little softer to the touch on all white colored areas, it still can be a bump on the head, but is better than the spigot alone.
July 21, 2010
Related Searches:
Similar Products: