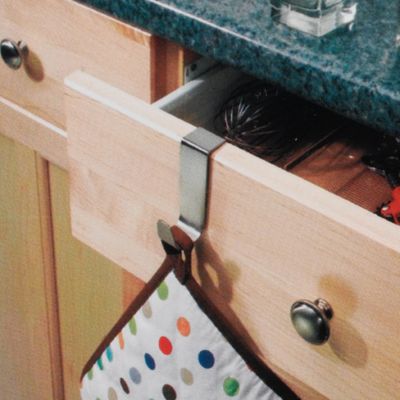 InterDesign® Forma Over-the-Cabinet Single Hook
Hooks are rubber-lined to protect cabinets
Single hook measures 1" W x 3" H x 2.5" D
SKU # 14166866
InterDesign® Forma Over-the-Cabinet Single Hook
4
4
Nice little hook
Very nice, especially for the price. Has a little lining on the inside so it stays in place and doesn't scratch my drawer.
August 4, 2014
Different Use
I bought two of these with the intention of using them to hold my pot holders, but then changed my mind once I realized how ugly my pot holders are. My husband and I live in a small condo with a very small kitchen. Being a small kitchen we only have two drawers - one for flatware, one for all other kitchen utensils. My kitchen utensil drawer was absolutely overflowing and difficult to find things in, so I moved these to the cabinets below and hooked my measuring cups and spoons to them! They're cute, functional, and I gained a lot of drawer space back in the process. Highly recommended!
January 14, 2014
Super handy!
This is a great way to keep hot pads and mits on hand without taking up counter space or drilling holes in things! Also hangs on cabinets
February 23, 2012
great solution
I used this to hold oven mitts next to the stove. Does the job as expected and does not rattle around on the door thanks to the padding inside. Glad I decided on this over Command strip hooks.
October 16, 2011
Related Searches:
Similar Products: