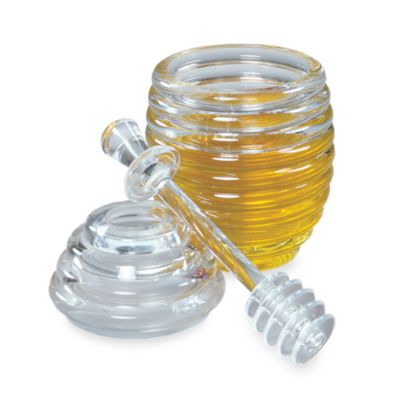 Fox Run Honey Jar & Dipper
Fox Run Honey Jar & Dipper
4
4
Honey Jar & Dipper
My husband wanted a honey dipper & we looked at several places. We asked at Bed, Bathe & Beyond. They did not have one in stock but a lady said she could order it for us & took us in an office, pulled it up on her computer to make sure it was what we were looking for, ordered it & had it sent to our house. We were very pleased with the service we got & will remember that whenever we are looking for other products.
June 16, 2014
Wonderful product!
I'm very pleased with my little honey pot. I wasn't sure what to expect for the price point, but it turned out to be a beautifully crafted and durable container. I washed it out immediately and filled it with honey as soon as it arrived and have been using it ever since...loving my purchase.
April 9, 2014
Cute but not practical
This product is cute but getting the honey out is difficult without having a mess.
July 25, 2013
Fox run Honey Jar & dipper
This was a gift from my daughter shipped directly to my house. So far, two have been received each with a large chip out of the lid, the chip was included in the shipment.. My third one is on the way. This is too much trouble for a little honey pot.
June 26, 2013
Related Searches:
Similar Products: