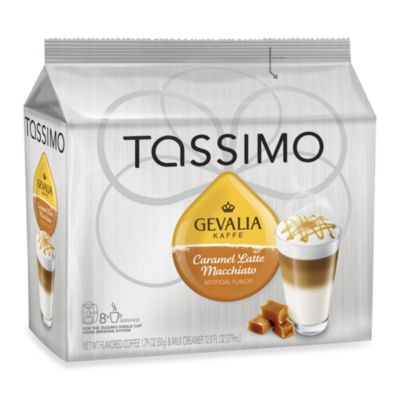 Gevalia 16-Count Caramel Latte Macchiato T DISCs for Tassimo™ Beverage System
Makes 8 servings; consists of 8 Milk Creamer T DISCs and 8 Gevalia Flavored Espresso T DISCs
SKU # 16887579
Gevalia 16-Count Caramel Latte Macchiato T DISCs for Tassimo™ Beverage System
216
235
Like the real thing
My husband had this type of coffee for his first on the tassimo coffee pot and he loved it. I tasted it and it was just as he said and that was it was just like the ones you get in the coffee shops. The milk pods are a nice added benefit to the coffee packages. No frothing mess and it is liquid not powder so it even makes it taste so much better as if you are getting one at a coffee shop.
May 12, 2014
Best coffee
This is my favorite coffee from the whole collection. To me it tastes just like the coffee a barrister would make you, I like a lot better the Starbuck kind
April 14, 2014
Best Latte Ever!!
Its my morning routine to have a Gevalia Caramel Latte Macchiato. The flavor is great and satisfying! Bed Bath & Beyond delivers this item quickly and it is the best place to order your Tassimo T DISCs. Very happy customer! :)
March 12, 2014
happycindy
brought a few of these as Christmas presents for family members who love drinking this. this put smiles on their faces....thanks Tassimo and BB&B for the coupon savings!
January 3, 2014
LOVE THIS w/ADDED CHOCOLATE SYRUP!
I have rebought this CARAMEL LATTE MACCHIATO several times and use it with my Tassimo T55 Brewer. MY FAVORITE COMBO is this using LATTE DISC first; then the CHOCOLATE SYRUP DISC (that comes in the Mocha package); and lastly, the CARAMEL DISC. These 3-discs combined is DELICIOUS! Make sure you use a LARGE CUP or SMALL POT or PITCHER if using all 3 combined. NOTE: The Tassimo T55 Model HAS NO GREEN LIGHT...but AFTER the YELLOW or GOLD CUP STOPS BLINKING, then you can remove disc and discard; OR remove and replace with next disc. Bought in-store using $5.00 Bed Bath & Beyond coupons to further save on the regular $12.99 each (discounted to $7.99 each). Enjoy!
July 14, 2013
EVEN BETTER IF I ADD CHOCOLATE SYRUP DISC TO IT
I like this one using the LATTE DISC first; and then the CARAMEL disc. BUT, MY FAVORITE is a MIX using the LATTTE DISC first; then the CHOCOLATE SYRUP DISC (that comes in the Mocha package); and then LASTLY, the CARAMEL DISC. LOVE THAT COMBO! I don't even need to add a little sugar as I do with some discs as noted in my other reviews. NOTE: Be sure to use a LARGER CUP or SMALL POT / PITCHER if mixing ALL 3 DISCS. I use the Tassimo T55 Model which is easy to adjust for different cups and/or unsnap to remove in front for EVEN LARGER CUPS or SMALL POTS / PITCHERS.
July 13, 2013
Yum Yum
Love this, get to have my specialty coffee right at home in the comfort of my home without the extra cost. The previous one had more foam before the recall, but this one is good none the less. A great change for regular coffee.
April 24, 2013
Great flavor
I really enjoy this coffee. The only complaint I have is that the last time I ordered two packages, and they sent one Gevalia and one Coffeehouse. I don't like the Coffeehouse brand.
April 22, 2013
Ask your questions. Get answers from the community.
Ask your questions. Share your answers.
Posted by
Jilly
1 week, 6 days ago
0
out of
0
found this question helpful.
Was this answer helpful?
helpful
0
unhelpful
0
http://answers.bedbathandbeyond.com/answers/2009/product/1016887579/question/1901818/undohelpfulness.djs?format=embeddedhtml&sessionparams=__BVSESSIONPARAMS__&return=__RETURN__&innerreturn=http%3A%2F%2Fanswers.bedbathandbeyond.com%2Fanswers%2F2009%2Fproduct%2F1016887579%2Fquestions.djs%3Fformat%3Dembeddedhtml%26scrolltotop%3Dtrue%26expandquestion%3D1901818&user=__USERID__&authsourcetype=__AUTHTYPE__&submissionparams=__BVSUBMISSIONPARAMETERS__&submissionurl=__BVSUBMISSIONURL__
Answers
Answer: 
The Gevalia 16-Count Caramel Latte Macchiato T DISCs for Tassimo Beverage System has 80 calories and 45 calories from fat.
Posted by
Additional information about CustomerServ2 could not be loaded.
5 days ago
0
out of
0
found this answer helpful.
Was this answer helpful?
helpful
0
unhelpful
0
http://answers.bedbathandbeyond.com/answers/2009/product/1016887579/answer/1859990/undohelpfulness.djs?format=embeddedhtml&sessionparams=__BVSESSIONPARAMS__&return=__RETURN__&innerreturn=http%3A%2F%2Fanswers.bedbathandbeyond.com%2Fanswers%2F2009%2Fproduct%2F1016887579%2Fquestions.djs%3Fformat%3Dembeddedhtml%26scrolltotop%3Dtrue%26expandquestion%3D1901818%26expandanswer%3D1859990&user=__USERID__&authsourcetype=__AUTHTYPE__&submissionparams=__BVSUBMISSIONPARAMETERS__&submissionurl=__BVSUBMISSIONURL__
Related Searches:
Similar Products: