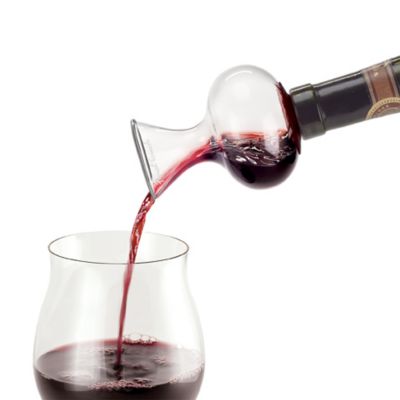 Final Touch® Wine Scent and Flavor Enhancer/Aerator
Slowly pour wine into your glass, exposing it to air inside the aerator and creating up to twice as much scent and flavor.
Made of blown glass, it includes a black wooden drying stand and a matching glass stopper for use on the aerator or on a wine bottle.
SKU # 16331473
Final Touch® Wine Scent and Flavor Enhancer/Aerator
4
4
Excellent design that works and looks good, too.
Really helps red wine to breathe. Device has a classy look on the bar. Stand helps to protect the aerator from damage. We have enjoyed using it. Thanks.
July 30, 2014
Used it for years
I've bought several as gifts and I use one myself. I won't drink without it anymore and even brought it to the restaurant a time or two.
February 3, 2012
Not for my money
This aerator do not do the job! Very little aeration; does not "open" the wine. We like the Soiree wine decanter - does a great job.
January 7, 2011
Such a great gift
Everything they say on the box about this product is true. It definitely enhances wine flavor, and what makes it even better is that it is done glass by glass, instead of having to pour a certain amount of your bottle of wine into a large decanter. I don't drink wine without it!
November 2, 2010
Related Searches:
Similar Products:
Also check out:
$19.99

$14.99

Clearance!

(18 Reviews)

$29.99

$19.99

Clearance!

(2 Reviews)

$19.99

$9.99

Clearance!

(1 Review)

$9.99

Beyond Value

(5 Reviews)