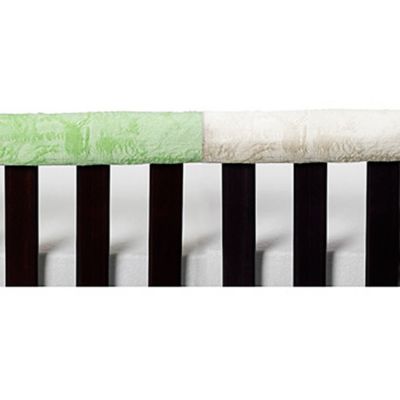 Go Mama Go Designs Teething Guard for Crib
It's easy to put on the crib and looks cute, too
Teething guard reverses to white
100% polyester
Machine wash
Imported
Go Mama Go Designs Teething Guard for Crib
3
3
Horrible Product, Cannot be Washed!!!!!!
Horrible product, I would not recommend it to ANYONE!!!!!! I was so happy thinking we got a very nice bite rail for our daughter's crib and when I got it (of course everyone wants to wash things before using them with your baby)....the instructions say you can delicate wash. You CANNOT WASH this product. I delicate washed it and the foam on the inside came out in a BALL. I put it in the dryer and stretched it out as much as possible but it's still pretty 'chunky' looking. I put it on the crib because I threw all receipts and packaging away and don't want to spend another $30 on one, and so it is on the crib. And it's actually a very nice product....if you don't want to ever wash it. It's very pretty, and very soft. There should definitely be a zipper on it to remove the middle foam for washing the cover. If the middle were removable and it washed up good, this product would be a 5/5....but it is simply junk.
March 12, 2014
Excellent Product
I did an internet search for crib rail teething guards and the results came back with either hard plastic ones or this cloth one. I was leery at first because there are ties every other rail, but this has worked wonderfully. He still bites on it, but it's very soft and protects his teeth (which wouldn't happen with a hard plastic guard). The ties don't come undone that often and are located under the crib rail, so he barely notices them. It is also very easy to clean - you just stick it in the washer. This was a very good product and I would recommend it.
July 26, 2012
Great product, wrong size
I LOVE this crib teething guard. It isn't terribly ugly looking and serves a great purpose. However, the 52x6 size is very impractical for most cribs i would think. I ordered it as our front crib rail was 52" long and exactly 6" around (2.5" x 1" x 2.5"), but 6" was definitely not enough. It looked terrible. I ordered it online and was able to return it to the BB&B store and they shipped my the 52x12 without problems. I only had to pay the difference in product cost. The 52x12 is perfect. It looks just like the picture does. I also purchased the side guards in the 12" which ends up not fitting all the way around with a flat top crib edge, but covers enough that it looks fine. The strings to tie the covers are ~5" long each so I was able to tie a tight bow with each of them and then stick them up into the guard so they don't even show. His safety is obviously my main concern and I can't figure out a way that this would cause any harm. Love the fact that covers can be washed. I must say my son hasn't turned out to be a huge crib chewer so it may have been a little unnecessary for me to purchase them all, but knowing they are there is worth it to me. Just the thought of bite marks in a brand new crib makes me angry. This is by far the best looking product I found and is worth it if you want a nice looking crib/bed for years to come.
April 18, 2012
Related Searches:
Similar Products: