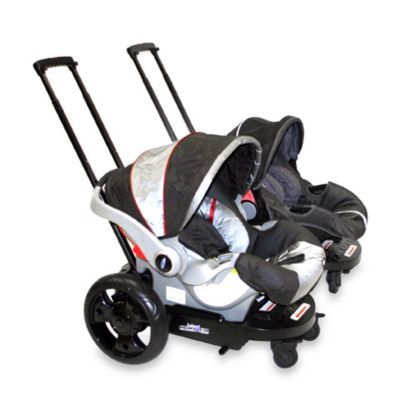 Go-Go Babyz Infant Cruizer AT Twin Adapter
The Infant Cruizer AT grows with your family. The twins adapter safely attaches two Infant Cruizers together so you can easily and securely maneuver your children when you are on the go together.
The Go-Go Babyz Infant Cruizer AT twin seat adapter is easily detachable, creating a single carrier for use with one child or to fit through narrow doorways.
This adapter is so easy to install and remove and it is accommodating to most popular car seats.
So comfortable, it features a five-point harness and cushioned seats for your little one.
This adapter is the perfect solution for traveling with twins.
Two Infant Cruizers with Twins Adapter (wheel to wheel) measures 42" W.
The Go-Go Babyz Infant Cruizer AT is sold separately.
SKU # 16705209
Related Searches:
Similar Products:
Customers Also Viewed
Frequently Bought With