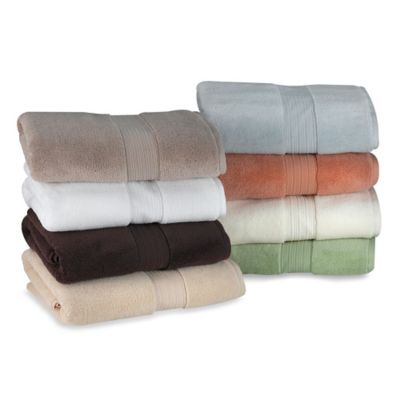 Finest Bath Towel
Washcloth measures 13" x 13".
Hand towel is 16" x 30".
Bath towel is 30" x 54".
Bath sheet measures 33" x 70".
Tubmat 21" x 34".
Machine wash.
Imported.
Super soft and absorbent
These towels are super soft and thick. They are also super absorbent . We love them!
February 17, 2014
Wonderful Bath and Mat towels
I bought 100% cotton towels and Bath Mats in matching colors. Wonderfully absorbent, thay are a gem of a purchase. I would reccomend these towels to any one wanting great quality at a good price.
November 9, 2013
Finest Bath towels
I love these towels so much. My daughter introduced me to these and I will never use anything else. They are the best. The only thing I don't care for is our BBB stores in Ohio don't carry them and I have to order them from the internet.
September 13, 2013
Funny Smell and Not Absorbent
I was not happy with these towels. They had a funny smell even after washing. Also they were not absorbent. I returned them.
December 13, 2012
Heavenly towels
I had two of these on my registry and they were definitely a splurge item based on how soft/expensive they were. I did receive them and have compared them to other luxury towels from Hotel Collection at Macys and wow! No comparison. Does not leave flint behind and I swear I'm dried in 2minutes! So happy we received these :)
September 8, 2012
Excellent quality
We purchased the bath towels, hand towels and bath mats. They are not only luxurious but they wash very well and the bath towel size is ideal for my husband.
September 3, 2012
The Towel Experiment
I haven't had very good luck with buying towels. I tended to go economical, i.e. shopping at Ross or Walmart for the deal. But this time I decided to invest in some quality towels, but I didn't have a lot of time to shop around. So I decided to go online at four different stores, buy two bath towels at each store, then try them out for awhile to decide which I liked best. Besides these towels from BB&B, I also ordered the high-end microcotton towels from Macy's, Overstock and Zappos. BB&B and Macy's were the best. Super, super soft and thick. BB&B towels were a little more expensive, but the Macy's ones were on sale. Close second was Zappos. Didn't really like Overstocks but they were also the cheapest.
August 18, 2012
Worth the money
These towels are pricey but so very absorbent. We love them.
April 11, 2012
Related Searches:
Similar Products:
Also check out:
$24.99

Exclusively Ours

(1 Review)

$14.99

Exclusively Ours

(2 Reviews)

$79.99

Exclusively Ours

(5 Reviews)

$39.99

Exclusively Ours

(1 Review)

$7.99

Exclusively Ours

(18 Reviews)

$49.99 - $99.99
(7 Reviews)

$59.99 - $79.99

Excluded from Pack and Hold

Beyond Value

(186 Reviews)

$69.99 - $99.99

Excluded from Pack and Hold

Beyond Value

Exclusively Ours

(125 Reviews)