Green Marble Mortar and Pestle
Green Marble Mortar and Pestle
13
15
It looks nice on the outside
However, the inside is poorly finished and not really suitable for serious work.
July 28, 2014
Durable
Received this as a housewarming gift for my small apartment. In addition to using this as a mortar and pestle, I use it to make tostones (flattened plantains) because it's so heavy.
May 6, 2014
Used for grinding reagents
Excellently crafted, easily used. I used it to grind several substances for an experiment and it served very well.
March 4, 2014
Looks nice and works good
I was a little concerned after reading the review before mine about not being able to crush flaxseed, like it's an inferior product or something. So mine just came delivered today, and coincidentally, I've had a whole bunch of flaxseed sitting in my cupboard for months. The first thing I did after I got it was watch a short video on how to use a mortar and pestle (I've never used one before), and then dig out the flaxseed. It actually ground up really nice. I did have to push a little hard, but not too bad so I'm not complaining. Like I said, this is my first time using one, so maybe that's probably has something to do with it. So I just thought I'd put that out there in case anyone gets worried like I was. Also it seems to be really nice quality overall, especially for the price.
January 8, 2014
Good product for other uses
I purchased this specifically for crushing flax seeds, but could not accomplish that with this mortar and pestle. It is probably a good product for other uses, but was of no use to me. I returned it to the store.
November 20, 2013
Just what I needed!
This was just what I was looking for to grind up dried cayenne peppers. It's the perfect size at 4 inches across and 4 inches deep and can grind peppers quickly to a fine powdery form. I highly recommend it.
July 29, 2013
much needed
This was a much needed item for crushing meds for my handicap child. Other crushers would strip or just tear up. This works perfectly!
June 6, 2013
Simply the Best!!!
After spending six months dreading whether to buy mortar and pestle, what kind should I buy.....looking on the internet for them finally I decided to give this a shot. Went to the store opened the package felt the inside of the mortar....it is rough and unfinished....ideal for grinding spices. Just finished grinding cumin , black pepper, cinnamon for veg. pilaf and it is amazing. It can grind spices to very fine powdery form ......just like store bought consistency or maybe even better. Green chillies can be ground to a very fine paste for chutney. I think I am gonna use it everyday.
May 7, 2013
Related Searches:
Similar Products: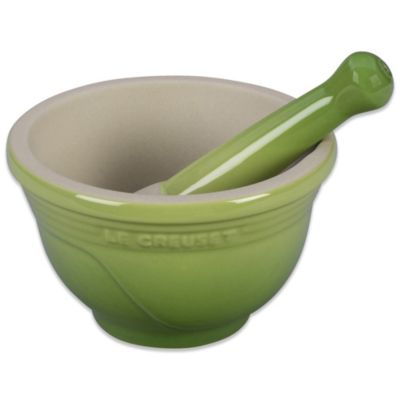 Le Creuset Mortar & Pestle in Palm Green
Price:
$34.99
Brand:
Le Creuset
Categories:
Kitchen > Kitchen Tools & Gadgets > Specialized Kitchen Tools
The mortar's rough ceramic interior mixed with the grinding action of the pestle releases the full flavor of herbs and spices, while also changing the texture and consistency of pesto and other dishes.
Also check out:
$14.99

Exclusively Ours

(4 Reviews)