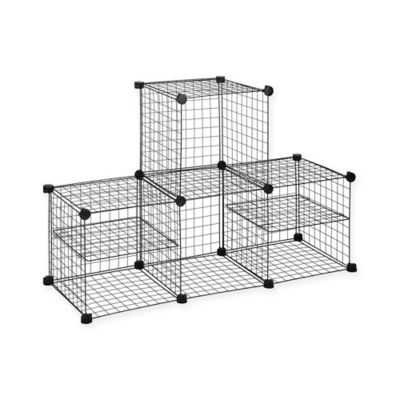 Grid Wire Modular Shelving and Storage Cubes
Made of heavy-duty 10 x 10 wire with powder-coated caked on finish, this modular system is extra strong and durable
Cubes interlock in a variety of positions to suit your living space needs
Ability to create up to four 14" W x 14" H cubes
2 adjustable shelves split the cube space into 6 compartments if desired, providing more than 25% more lineal storage space
Includes 18 connectors
Assembly required
1-year manufacturer's warranty
SKU # 16719773
Grid Wire Modular Shelving and Storage Cubes
47
50
Do NOT Buy These
I, like other reviewers, have had other brands of these and they worked quite well especially with a little securing with cable ties. This brand, however, is a totally different story. Spent 45 minutes trying to get one column put together. They will break before you get them constructed. Run while you can.
October 4, 2014
Use them for my business!
Someone else used these to display their wool fabric at a show and I knew I had to have them. They are excellent. They are a bit time consuming if you have to take them apart and reassemble each time I travel. Since getting a van to use for my business, I took the cording that is used to sew braiding together and "sewed" them together. It is the most durable, easy to lift display I have ever had. I fold the wool, place it in the cube and it is all ready for display. It is affordable and makes a terrific display. I bought 10 of these sets so you can be assured that I am a fan of this product.
September 22, 2014
Very disappointed
After buying the Closet Maid storage cubes for years, I haven't been able to find them any more. So I decided to try these and could not be more disappointed, Very flimsy compared to the Closet Maid brand and much more difficult to assemble. It takes considerably more effort to insert the metal grids into the connectors and you end up bending the metal. I ended up breaking one of the plastic connectors and one of the metal grids trying to get it together. Would not buy these again.
September 19, 2014
Impossible to construct
I bought this to go in my dorm for some extra space, I have it stacked four high in my closet. It was very frustrating to put together, it took my dad, brother-in-law and myself almost an hour to put together. Every time we would get two of the walls connected and tried to add a third, one of the first two would pop out. Even now that it is constructed, I still have one or two spots that aren't connected properly. The insertable shelves are a nice feature. I have a few books and movies stored on one of the shelves and the metal has started to bend under the weight, that isn't too much in my opinion.
September 8, 2014
Poor quality
As many other reviewers indicate, the connectors are made of very poor quality. It takes some elbow grease to get the connectors in place, but elbow grease results in broken connectors. I wouldn't mind so much if the manufacturer would anticipate the problem and include extra connectors, but no such luck. In fact, of the three packages I purchased (in store), only one had sufficient connectors. One had no connectors and one was missing several connectors. My guess? Someone with the same complaint used additional connectors from one kit to replace their broken connectors in another get just to get one complete unit - because after all the cussing that goes into trying to get this thing together, it's hard to admit defeat and take it all apart when you realize there are no extra connectors. And don't bother contacting the customer service department via the "for assistance" email provided. I tried; no response.
August 30, 2014
Great for C and C cages!
If you're looking to make a C and C cage these work great, and since they include 2 shelves you get 2 more grids than in most packages. The connectors are junk but we used zip ties to reinforce it all and it turned out to be a sturdy cage. I definitely recommend these grids for cage building. After handling this product there is no way I would order them for shelving. It's a great idea but the quality of the materials is junk, a lot of the wires on our grids aren't even welded on straight. Great for cages, but I couldn't imagine these working well for shelving.
August 28, 2014
i loves these
i love these i use them to make my c&c cage for my guinea pigs this is my second time buying these i see them at other stores where they are very expensive but bed bath and beyond has them for the best price i will always buy the shelf cubes here
August 26, 2014
Works great for me!
Since so many people have been writing negative reviews, I thought I'd throw in my experience. I bought this product to house a collection of small dolls, and it has worked great for this purpose. Yes, it can be a challenge at times to put together, and no, it is not made of heavy-duty materials. But I have found it works well for light-weight items and has a very nice look. Sometimes the connectors require a little elbow grease, but I've always been able to get them on nice and tight. Since my doll collection has expanded - again! - today I am going to buy a second set. I think a lot of the complaints have resulted from unrealistic expectations. People need to bear in mind that this is a lightweight, inexpensive product and judge it accordingly.
August 24, 2014
Related Searches:
Also check out:
$59.99

Beyond Value

(37 Reviews)

$14.99

Beyond Value

(40 Reviews)

$19.99

Beyond Value

(14 Reviews)

$29.99

Beyond Value

(14 Reviews)

$19.99 Each

Beyond Value

(46 Reviews)

$5.99

Beyond Value

(18 Reviews)

$14.99 Each

Beyond Value

(7 Reviews)

$29.99 Each

Beyond Value

Exclusively Ours

(23 Reviews)