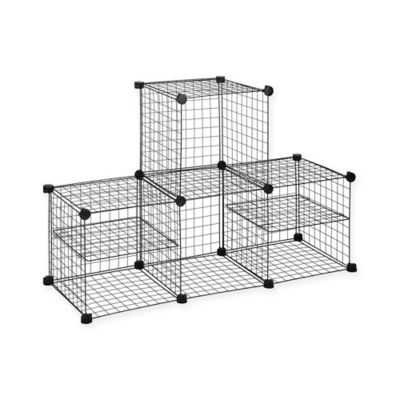 Grid Wire Modular Shelving and Storage Cubes
Made of heavy-duty 10 x 10 wire with powder-coated caked on finish, this modular system is extra strong and durable
Cubes interlock in a variety of positions to suit your living space needs
Ability to create up to four 14" W x 14" H cubes
2 adjustable shelves split the cube space into 6 compartments if desired, providing more than 25% more lineal storage space
Includes 18 connectors
Assembly required
1-year manufacturer's warranty
SKU # 16719773
Grid Wire Modular Shelving and Storage Cubes
43
46
Poor quality
As many other reviewers indicate, the connectors are made of very poor quality. It takes some elbow grease to get the connectors in place, but elbow grease results in broken connectors. I wouldn't mind so much if the manufacturer would anticipate the problem and include extra connectors, but no such luck. In fact, of the three packages I purchased (in store), only one had sufficient connectors. One had no connectors and one was missing several connectors. My guess? Someone with the same complaint used additional connectors from one kit to replace their broken connectors in another get just to get one complete unit - because after all the cussing that goes into trying to get this thing together, it's hard to admit defeat and take it all apart when you realize there are no extra connectors. And don't bother contacting the customer service department via the "for assistance" email provided. I tried; no response.
August 30, 2014
Great for C and C cages!
If you're looking to make a C and C cage these work great, and since they include 2 shelves you get 2 more grids than in most packages. The connectors are junk but we used zip ties to reinforce it all and it turned out to be a sturdy cage. I definitely recommend these grids for cage building. After handling this product there is no way I would order them for shelving. It's a great idea but the quality of the materials is junk, a lot of the wires on our grids aren't even welded on straight. Great for cages, but I couldn't imagine these working well for shelving.
August 28, 2014
i loves these
i love these i use them to make my c&c cage for my guinea pigs this is my second time buying these i see them at other stores where they are very expensive but bed bath and beyond has them for the best price i will always buy the shelf cubes here
August 26, 2014
Works great for me!
Since so many people have been writing negative reviews, I thought I'd throw in my experience. I bought this product to house a collection of small dolls, and it has worked great for this purpose. Yes, it can be a challenge at times to put together, and no, it is not made of heavy-duty materials. But I have found it works well for light-weight items and has a very nice look. Sometimes the connectors require a little elbow grease, but I've always been able to get them on nice and tight. Since my doll collection has expanded - again! - today I am going to buy a second set. I think a lot of the complaints have resulted from unrealistic expectations. People need to bear in mind that this is a lightweight, inexpensive product and judge it accordingly.
August 24, 2014
piece of junk
I really wish I would have read reviews on this before I purchased it for my son's dorm room. The connectors kept busting even when we pulled it out of the box there were several bits of plastic so apparently they were busted before we even started to assemble it. Piece of junk and a waste of money!!!!!
August 20, 2014
Don't bother
The plastic connectors are what ruin this product. They are cheap and kept coming off, and when they weren't coming off, they were breaking. We ended up using zip ties. Don't waste your money on this product. It's garbage.
June 4, 2014
Poor quality material
Several years ago I bought 2 sets of these from Bed, Bath, and Beyond. They were constructed well and had held up through the years. Recently, I purchased another set and found it to be of extremely poor quality. Utter junk for Bed, Bath, and Beyond standards. When I attempted to assemble them, I found that the way the connectors were formed forced other sides to be too short. This forced the "shelf" sides to be unable to actually grip the sides correctly. They fell off so many times. The metal sides are made of a lighter, lesser quality metal. I could bend them myself! The connectors were made with such a cheap plastic that they could not take the tension of being fit into the metal sides and several of them broke so much they were unusable. Once I spent 3x as much time attempting to assemble this in the living room, I picked it up to move it to the closet I intended to put it in and it fell apart in my hands. Eventually, I was able to delicately put in where I wanted it to go. It is supported by walls and is primarily used to store empty pop cans before returning them to the store; however, I would not be surprised to hear it come crashing down in the middle of the night. This is utter junk. Don't buy it.
May 15, 2014
DO NOT BUY!!!! Quality of these have gone to junk!
I've bought two of these in the past from the store when they had the back to school stuff. Probably 3 years ago I'm guessing. They are built well. Connected well and hold a lot of weight. Zero issues with those two. I wanted one more set to organize some more stuff in my home office so I wouldn't have to buy a huge heavy bookshelf or cabinet. Plus moving with these shelves would be so simple. Ordered this online and had it shipped. I got about half way through building it and I couldn't get anything to stay together. Nothing would stay put. They kept coming apart. Get one side snapped in and the other side would pop out. Pop that side back in and the other side would pop out. It's like that piece wasn't wide enough. They're all bent out of shape. This set was a lot lighter and thinner construction. They're not flat and not square thought they looked square when I unwrapped them. The connectors kept breaking. Horrible!!! Low quality!!! This is going back!!! Love BB&B but absolutely not this product!
May 11, 2014
Related Searches:
Similar Products:
Also check out:
$59.99

Beyond Value

(32 Reviews)

$14.99

Beyond Value

(36 Reviews)

$19.99

Beyond Value

(14 Reviews)

$29.99

Beyond Value

(13 Reviews)

$19.99 Each

Beyond Value

(45 Reviews)

$5.99

Beyond Value

(16 Reviews)

$14.99 Each

Beyond Value

(6 Reviews)

$29.99 Each

Beyond Value

Exclusively Ours

(19 Reviews)