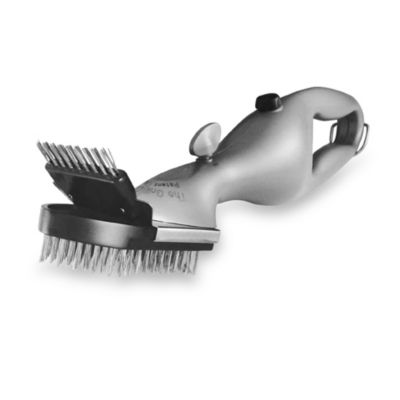 Grill Daddy™ Grill Cleaning Tool
Easy to use - simply preheat your grill, fill the Grill Daddy™ with water, and then brush
Safe to use on steel, iron and porcelain grills, hot or cold
Sturdy handle provides excellent leverage, while the convenient hook allows for easy storage near the grill or in the garage
Made from NSF approved materials
Removable brush head attachments are dishwasher safe
Replacement brush head attachments sold separately
SKU # 17926624
Grill Daddy™ Grill Cleaning Tool
20
22
Grill Daddy
Deceptive advertising fooled me!. It doesn't create steam from within, but it depends on the grill grates to heat up to create the steam. Bummer!
August 5, 2014
Great product
This product is easy and quick to use. Really gets the job done!
July 31, 2014
handy gadget
My fiance' is a grilling master. saves him cleaning time!!
July 31, 2014
Great tool
It really DOES work! Best part, it eliminated the need to use chemicals to clean the grill Thanks for making this available. (A great salesperson arranged to have it shipped to my house for no charge because you were temporarily out of stock)
July 30, 2014
Grill cleaning tool
The Grill Daddy tool is an excellent product, it quickly cleaned my grill with very little effort. One of the few products I have purchased that exceeded my expectations.
July 30, 2014
Grill Daddy Works Great!
My Grill Daddy makes cleaning the grill grate simple and quick. The steam really makes cooked-on food brush off easily. I use it every time I grill and am also planning to give them as gifts to my grilling friends.
July 30, 2014
Grill Gadget
The item is made well and easy to use. Attempting to dispense water into the item is somewhat cumbersome. It is hard to judge how much water is being dispensed and can not or should not be done while using on the grill. The price is excellent and it does do the job once you get use to it. The delivery of the item (although free) took longer than expected from the store of purchase.
July 30, 2014
Good price
I had a hard time with the purchase, as I ordered it on line. Went to the store for pick up and it was out of stock, even tho I received an E-Mail stating it was ready for pick up. I found it at Wal Mart for the same price, so I purchased it. BBB advertised that the price was marked down to 7.95. so I took Wal Mart back and purchased it from BBB. My husband uses it and said it is OK.
July 30, 2014
Related Searches:
Similar Products:
Also check out:
$7.99

Exclusively Ours

(1 Review)