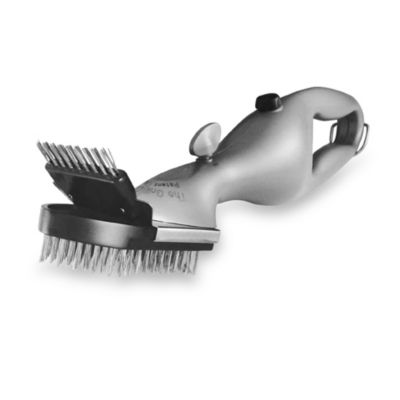 Grill Daddy™ Grill Cleaning Tool
Easy to use - simply preheat your grill, fill the Grill Daddy™ with water, and then brush
Safe to use on steel, iron and porcelain grills, hot or cold
Sturdy handle provides excellent leverage, while the convenient hook allows for easy storage near the grill or in the garage
Made from NSF approved materials
Removable brush head attachments are dishwasher safe
Replacement brush head attachments sold separately
SKU # 17926624
Grill Daddy™ Grill Cleaning Tool
26
28
Grill Daddy
It does exactly what it says it will do. Excellent tool. excellent value!
November 3, 2014
this product does its job.
Love this. Works just like it says. My local store didn't have it. Had to order online and pay shipping costs. Still worth the money. Great product.
October 21, 2014
perfect product
This is our second grill daddy, only because we lost the first one to the raccoons. Does amazing clean up work with amazingly little effort. It is lightweight yet durable. Have seen fancier models at other store for 4 times the cost... no need. This does the work just perfectly.
September 22, 2014
works as advertised
Simple design, low cost, works as advertised...what more can you ask?
September 15, 2014
Best grill brush on the market
Of all the grill brushes I have had in the past, this Grill Daddy is the very best. Does an amazing job cleaning up a dirty grill. I would certainly recommend this brush to anyone who likes a clean cooking surface.
September 15, 2014
My dad loves it
I bought a grill daddy for my father on Father's Day. He absolutely loves it. I was worried that it wouldn't stand up to a bigger fancier more expensive version, but it absolutely does the trick. Make sure to get some replacement brushes so the grilled in your life can use this gadget for a long time to come!
September 5, 2014
Grill Daddy
Deceptive advertising fooled me!. It doesn't create steam from within, but it depends on the grill grates to heat up to create the steam. Bummer!
August 5, 2014
Great product
This product is easy and quick to use. Really gets the job done!
July 31, 2014
Related Searches:
Similar Products: