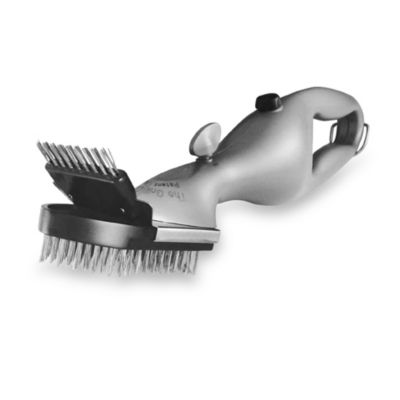 Grill Daddy™ Grill Cleaning Tool
Easy to use - simply preheat your grill, fill the Grill Daddy™ with water, and then brush
Safe to use on steel, iron and porcelain grills, hot or cold
Sturdy handle provides excellent leverage, while the convenient hook allows for easy storage near the grill or in the garage
Made from NSF approved materials
Removable brush head attachments are dishwasher safe
Replacement brush head attachments sold separately
SKU # 17926624
Grill Daddy™ Grill Cleaning Tool
8
8
Happy Husband
This makes my husband so happy... I think he likes cleaning the grill more now than cooking on it.... It really makes cleaning the grill a snap. Stock up on replacement brushes though, it seems they wear out kinda quick... the first one has lasted just over 3 months.
March 28, 2014
Works like a charm
This simple product does a great job of cleaning my grill! Love it.
September 16, 2013
I'm a believer!
I can't tell you how impressed I am - Grill Daddy Brush is the most innovative product I have used in a long time. It works better than any other - cleans instantly and completely! There is no need for any other brush ever again. Perfect gift for Father's Day, Birthdays, and Christmas.
April 2, 2013
Great Item
Item is easy to use, no batteries to replace, simple and effective. My husband even loves it!!
July 6, 2012
Great Product
We got one of these for a wedding present. My husband LOVES it. It does such a fabulous job cleaning the grill. He waits until the coals have heated up the grates some and then he cleans it. This tool makes it so easy to keep the grill clean for future cookings.
June 5, 2012
Great Purchase
Does a very good job of cleaning the grill. I plan to buy more in the future as gifts for family members.
August 5, 2011
Grill Daddy is Great For Mom
We BBQ several times a week and this the best cleaning method I've ever used.
July 6, 2011
Better Then I Thought
Bought it figuring what the heck, I was really shocked. It works great. Cleans the grill really good.
July 6, 2011
Related Searches:
Similar Products:
Also check out:
$169.99 - $199.99
(6 Reviews)