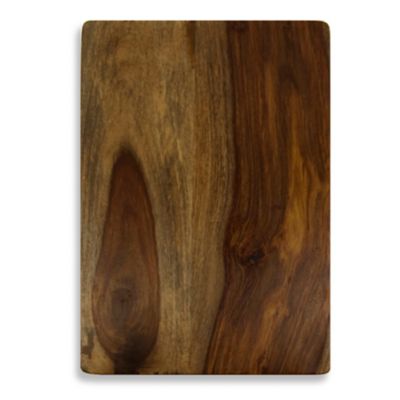 Gripperwood™ Sheesham Cutting Board
Gripper feet on the bottom keep the cutting board in place on your counter when in use.
Measures 10" L x 15" W x 1" thick.
Hand wash only.
SKU # 14856358
Gripperwood™ Sheesham Cutting Board
8
8
Splitting after Fewer than 2 Months
My husband and I received this cutting board for our wedding. At first, we were impressed with the look and feel of it, but after fewer than two months of use, the wood began to split and splinter. Needless to say, we will be returning it.
June 15, 2014
Great cutting board
My two sisters and I all have this cutting board and we love it. I've had mine for a month now and it looks and works wonderfully. My sister has had her board for a few years and, while it has scratches and shows some wear and tear, it is in great condition. I'm even ordering this board for our mother for mother's day!
April 20, 2014
Only lasted 4 months
Though I was really pleased with the look of this board when it first arrived, it showed wear and tear very quickly even with light use. A few months in, the glue that holds the two halves of the board together began to weaken, even after having hand washed the board and drying it immediately every time. It is now totally warped and nearly split apart after just four months of use. I had read about this problem on a customer review with another vendor but decided that it was probably a fluke. I should have listened to that reviewer and saved my money!
April 6, 2014
Worst wooden cutting board
I made a BB&B account just to review this product. I bought this cutting board for my boyfriend for Christmas and after ONE use, it started to deteriorate. After using and hand washing it once, this cutting board began to warp like crazy. At first I thought the unevenness was due to the rubber grippers being misshapen, but after turning the board over and lying on a flat surface, it was definitely warped. I tried to return it but was turned down by customer service because the board already had a few scratches on the surface (after using it just once!). I kept the board around and I use it occasionally as a last resort when my other cutting boards are dirty. Not only has it warped like mad, but a chip of wood came out of it the other day after I cut an onion on it. This is by far the worst quality wooden cutting board I have ever used.
January 23, 2014
Money Well Spent
This Cutting board was exactly what I was hoping for! great quality, great durability and nice to look at!
January 26, 2012
This is the best cutting board ever
I have had one of these ever since I bough my second house, about 4 years. Since then, I've met the woman of my dreams and it's one of the first things that I bought for her to have at her place. She loves it too. It looks beautiful. It holds up very well as long as you take care of it with some mineral oil (a must have for this nice board). The grips on the bottom keep it away from the counter and any liquids on the counter top. The grips also keep the board from moving. You'll never buy a different wooden board.
January 20, 2012
Simply Beautiful Cutting Board
My husband bought this for me for Christmas this year upon request. The wood is beautiful and flawless! I've just started using it, but I think it's going to be around for a while. It feels indestructible as well as having a beautiful walnut varnish that has yet to show any signs of knife scratches (I use it primarily for cutting bread). Definitely recommend this product!
January 5, 2012
Finally a decent cutting board!
I've tried many, many different cutting boards over the past 10 years, and they either warped, cracked, or were otherwise useless. This cutting board has been a dream. It does show some scratches from knife cuts, but it's solid, and cleans easily. It fits in my sink so I can rinse it off, and I love the non-slip rubber feet on the bottom. All around well worth the price. Fantastic cutting board. It looks really cool too - I get a lot of comments/compliments on it.
January 27, 2011
Related Searches:
Similar Products: