Hagerty Chandelier Cleaner
The adjustable nozzle allows selective spray control to reach intricate crevices of crystals and fixtures.
32-fluid ounces.
SKU # 10216516
Hagerty Chandelier Cleaner
4
4
Hagerty Chandelier Cleaner
My chandelier never looked so good, sparkling. I wish my local store would stock this product. I have suggested it to friends,, who were also very satisfied with it.
September 16, 2014
This product is awesome for sparkling windows and my chandelier. It removes built up dust and is also good for shiny countertops. ( a water down version) Please consider stocking it in your Brandon BB&B. I have looked for this for a very long time. Definitely makes the sparkle come back to mirrors and glass!
August 13, 2014
EXCELLENT!
Sprayed my chandelier and within 30 minutes, it was sparkling and looked great!
September 22, 2013
Just okay
Really expected more from this product. Not able to see much of a difference after applying it to my chandelier. Used it on other products as well, and nothing to get excited about. Would not recommend.
May 2, 2013
Related Searches:
Similar Products: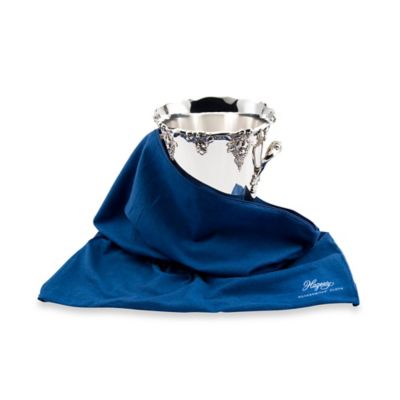 Hagerty 18-Inch x 18-Inch Zippered Jewelry Bag in Blue
Price:
$16.99
Brand:
Hagerty
Categories:
Storage & Cleaning > Jewelry Boxes & Storage > Jewelry Cleaners
The elegant Hagerty 18-Inch x 18-Inch Zippered Jewelry Bag in Blue is made from Silversmiths' Cloth so it will help prevent your precious jewelry from being tarnished. This bag will keep silver pieces lustrous.
Also check out:
$9.99 - $29.99




$7.99 - $24.99

Clearance!

Exclusively Ours

(29 Reviews)

$9.99 - $14.99
(5 Reviews)

$10.99

Free Standard Shipping

(93 Reviews)

$14.99 - $34.99




$11.99 - $27.99

Clearance!

Exclusively Ours

(7 Reviews)
$19.99 - $24.99
(2 Reviews)

$14.99

Exclusively Ours

(3 Reviews)

$12.99

Free Standard Shipping

(9 Reviews)
$29.99

Clearance!

(1 Review)