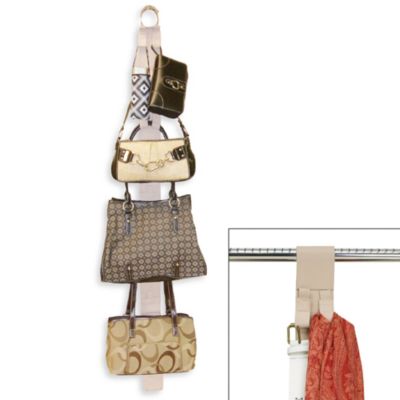 Handbag & Accessory Over-The-Rod Organizer
No assembly required.
Velcro attachment easily secures strap to rod.
2 split loops are great for scarves and belts.
10 large loop areas with pull tabs on each side can hold more than 1 item.
Holds at least 20 bags and accessories.
Khaki canvas.
3'' W x 51'' L.
SKU # 17603930
Handbag & Accessory Over-The-Rod Organizer
2
2
Perfect for the bag lover
I love bags of all kinds. I had them all stacked in the closet and had to go through the whole stack every time I was looking for a bag and then restack them. This gets them off the floor and now I just have to look in the closet and see every one of them without having to drag them all out.
September 15, 2014
Very Disappointed
Very poorly made, threads hanging out from the stitches, appears to be very filmsy. Awkward to put on my closet rod and bottom 3 hangers on both sides are set so low purses sit on the floor. I did not expect to buy an item of this poor quality at Bed, Bath and Beyond. I am taking it back to the store for a refund.
August 8, 2011
Related Searches:
Similar Products: