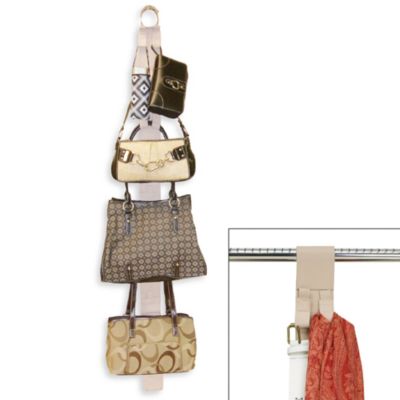 Handbag & Accessory Over-The-Rod Organizer
No assembly required.
Velcro attachment easily secures strap to rod.
2 split loops are great for scarves and belts.
10 large loop areas with pull tabs on each side can hold more than 1 item.
Holds at least 20 bags and accessories.
Khaki canvas.
3'' W x 51'' L.
SKU # 17603930
Handbag & Accessory Over-The-Rod Organizer
1
1
Very Disappointed
Very poorly made, threads hanging out from the stitches, appears to be very filmsy. Awkward to put on my closet rod and bottom 3 hangers on both sides are set so low purses sit on the floor. I did not expect to buy an item of this poor quality at Bed, Bath and Beyond. I am taking it back to the store for a refund.
August 8, 2011
Related Searches:
Similar Products:
Also check out:
$19.99

$13.99

Clearance!

Exclusively Ours

(13 Reviews)

$29.99

Beyond Value

(14 Reviews)

$9.99 Each

Exclusively Ours

(3 Reviews)
$19.99 Each

Beyond Value

(45 Reviews)

$29.99

Beyond Value

(74 Reviews)

$19.99

$4.99

Clearance!

(1 Review)

$9.99

Exclusively Ours

(5 Reviews)

$14.99 Each

Exclusively Ours

$6.99 - $9.99
(4 Reviews)