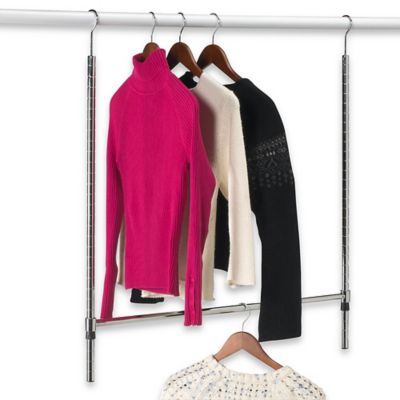 Double Hang Commercial Grade Closet Rod in Chrome
There's even a push button that allows you to easily adjust rod horizontally
Height adjusts from 1" to 30"
Width adjusts from 20" to 36"
Holds up to 40 lb.
2-year limited manufacturer's warranty
SKU # 15040149
Double Hang Commercial Grade Closet Rod in Chrome
35
36
Great for Kids Closets!
Easy to assemble; durable. Greatly helped my kids reach their clothing and learn to dress themselves (I store "off season" stuff on the upper rack). The height is adjustable but not the width
July 5, 2014
So far so good...
I haven't had the opportunity to truly test out this product yet, but so far I'm pleased with it. We bought the closet doubler for my young son's closet so he can reach his own clothes when he moves into his "big boy room." He is very excited about his big boy room but because we haven't made the move yet, we haven't been able to "toddler test" the product. Assembly was easy. One note though, the horizontal bar has a proper top and bottom to make a snug fit, though it's not marked. It does make a difference on how secure the connection is. If your horizontal bar is not fitting snugly over the black clips then the horizontal bar is upside-down. Simply un-assemble, flip the horizontal bar right-side-up, and re-assemble. Now to some of the comments from other reviews: We have a "regular" closet rod (not sure the diameter) and the hooks fit over it well. The closet doubler does swing however. I haven't had a chance to test the strength of the product yet, but I imagine when assembled properly this should be no problem. (I have worked successfully in the past with shelving made with the same material and connectors.)
June 9, 2014
Great idea, terrible product that breaks!
TWO of these broke on me within 2 weeks of having them, and they were only holding my toddler's clothes- nothing heavy!! The black plastic piece broke on one side sending it to the floor- twice, and both times while I was placing one tiny little toddler piece of clothes on it. I loved the concept, but I guess I won't be trying out a third!!
May 3, 2014
Broke the 1st Day I bought it
I am not sure if I got a defective one! I followed the instructions which were pretty easy. One of the pipes would not screw together. I am going to return and get another one. I am hoping that the second one works better.
February 6, 2014
Horrible construction
I bought a similar item many years ago at BB&B, and it's still hanging in my closet holding many heavy items. I recently purchased 3 more of these new commercial grade rods. Hung a cami on the first rod and one of the vertical rods let go. Screwed it back together and it held a few light blouses. I can't tell you how many times I've walked into my closet and the few light items that I've had on the rod were on the floor because the rods don't screw into each other correctly. Piece of junk, going back today! I can't believe they're still selling this item. It's made in China. What did I expect!
September 15, 2013
Excellent
To be honest I really don't understand why everyone is saying their closet rod came defective, or broke easily because mine did nothing of the sort. I had this rod for over 2 months and only put jeans on it and so far it's held it's own. And installation took only 15 minutes. Take it from me this closet rod is worth the money and i definitely recommend this product.
September 13, 2013
Two-minute warranty
This product was defective. The upright poles on one side would not fit together at all and I returned it to the store. It is supposed to have a two-year limited warranty but mine failed right out of the box.
September 8, 2013
IT COLLAPSED
The vertical rods on each side are actually 2 pieces that you screw together. They will not stay together. It collapsed with very little hanging on the bottom. Poor design: why not just one piece on each side? Poor quality: screw threads don't hold up at all. Will return and look elsewhere. Purchased so 5-year-old can reach her clothes.
August 24, 2013
Related Searches:
Similar Products: