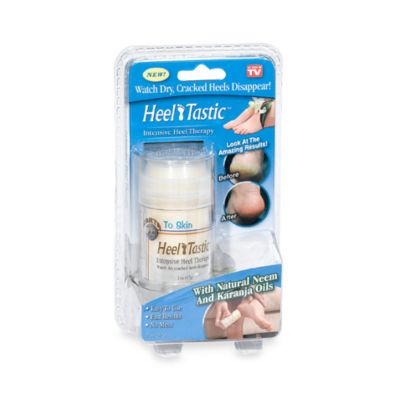 Heel Tastic™ Intensive Heel Therapy
As Seen On TV
With natural Neem and Karanja oils that are prized for their restorative properties, Heel Tastic™ is absorbed deep below the skin's surface and provides fast results to leave skin smoother and softer than before.
Light scent reminiscent of lemongrass and ginger.
SKU # 16859567
p>
Heel Tastic Intensive Heal Therapy
<
Are your feet so rough that you need a sander? Jagged enough to pop a balloon or tear through pantyhose? Now, there's the amazing HeelTastic, the miracle solution to dry, cracked feet. Within 24 to 48 hours, I could see an improvement in my skin and what a difference it makes immediately. My feet feel so much softer. They feel like baby's feet. This easy to use soothing balm helps to protect skin against dry, cracked heels. My feet were so dry and cracked. Now, I'm not embarrassed to wear sandals anymore. Just glide it like a roll on with no mess and no fuss. I actually formulated this product for myself because I had cracks that were so bad, they bled. Lotions and creams sit on the top of the skin. The problem is deeper. This actually gets to the cause of the problem. HeelTastic contains a rare blend of neem and karanja oils used for centuries by ancient eastern civilizations to heal skin from within. My feet felt a lot softer. They didn't seem to crack or bother me.
Any time I get any type of dry skin, it's like it magically disappears. I have no more callusing, no more cracking. My skin looks great. So stop hiding horrendous heels, and start loving your feet again with HeelTastic Cracked Heel Renewal. There was no residue. It smelled wonderful, and it took care of the problem finally. Take yours home today.
Heel Tastic™ Intensive Heel Therapy
10
10
Softer heels!!
Apply every day after showering. Fragrance-free and no mess roll-on!
September 12, 2014
Worth The Money
I never buy "As Seen on TV" items, but I was desperate. My feet get calloused and dry in the summer since I go barefooted or am in sandals all season. Anyway, for the past year I used vaseline with aloe socks every night and if I missed one night, my feet would be dry again the next morning. I haven't really noticed that with this product. I use it at night with aloe socks and if necessary, in the morning, but rarely. My feet are really smooth and look so much better. I highly recommend this product!!!!
June 4, 2014
Did NOT work for me
I have dry and cracked heels. This product did not work for me at all
September 12, 2013
best heel cream ever
ive been using heel tastic for about 6 months and i love it. im diabetic and my feet were very very dry and cracked. once i started using this they got 100% better. i had to laugh because the smell of it smells like marijuana,even my husband commented but ive confirmed there is no marijuana it it. talk about happy feet. ive just ran out and im on my way to bed bath and beyond to get another one. i take a shower buff my feet then put on heel tastic and im ready to go.
March 26, 2013
The Best I've Ever Found
My wife gave this to me a year or two ago for my AWFUL feet; dry, cracked, painful cracks on occasion. I put it in the drawer and never used it until about a month ago when I "found it" again during my "once every five years drawer clean out and organization (whether it needs it or not...)."Frankly, I was amazed at how well it works AND how quickly it works. I tried it at bedtime, and my feet were actually NOTICEABLY better in the morning! And I've kept on using it, and my feet have never looked or felt so good. I gave the product 4 vice 5 stars because I have to use it ALL the time (twice a day). If you skip even one application (I use it in the morning and at bedtime) I notice it in the appearance of my feet. Still, I think it's worth the money since I've tried more expensive treatments that had far less positive effect. Bottom line - really good stuff that does what it says. Do you think they might pay me for such a raving endorsement?
February 8, 2013
Love this stuff
I enjoy going barefoot when I'm home, but my rough feet would scratch and catch on things which was very annoying, and in bed would snag out silky sheets. I saw this advertised on TV and found it in the store so I tried it. I wasn't real impressed, but I didn't use it very religously, because putting it on at night was a pain because wearing socks to bed was just too hot, for me. One day I decided to put it on in the morning wear it during the day with my socks on. Within days I cauld tell the difference now I won't go with out it. As crazy as this sounds my socks don't wear out like they used to either.
January 8, 2013
Hard to find items
My husband suffers from cracked heels, which is extremely painful. I have not been able to find another store that carries this miracle creme.
October 25, 2012
This Heeltastic is Fantastic!
This product is absolutely amazing, took my feet from awful to terrific. Now, you will want to use this nightly then exfoliate your feet the next day, and repeat. In less than a weeks time, my feet are healed remarkably. I bought two more of these for future use! Cannot go without it now!
March 10, 2011
Related Searches:
Similar Products: