Personalization is required to add item to cart or registry.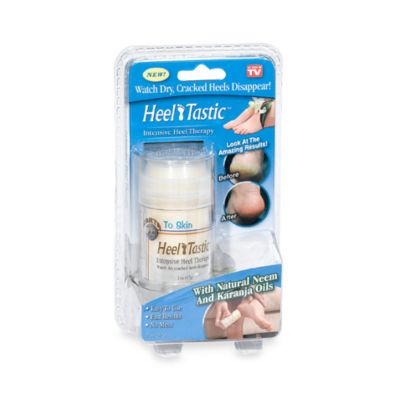 Heel Tastic™ Intensive Heel Therapy
Similar Items
The item you viewed above is out of stock. We also suggest:
As Seen On TV
With natural Neem and Karanja oils that are prized for their restorative properties, Heel Tastic™ is absorbed deep below the skin's surface and provides fast results to leave skin smoother and softer than before.
Light scent reminiscent of lemongrass and ginger.
SKU # 16859567
p>
Heel Tastic Intensive Heal Therapy
<
Are your feet so rough that you need a sander? Jagged enough to pop a balloon or tear through pantyhose? Now, there's the amazing HeelTastic, the miracle solution to dry, cracked feet. Within 24 to 48 hours, I could see an improvement in my skin and what a difference it makes immediately. My feet feel so much softer. They feel like baby's feet. This easy to use soothing balm helps to protect skin against dry, cracked heels. My feet were so dry and cracked. Now, I'm not embarrassed to wear sandals anymore. Just glide it like a roll on with no mess and no fuss. I actually formulated this product for myself because I had cracks that were so bad, they bled. Lotions and creams sit on the top of the skin. The problem is deeper. This actually gets to the cause of the problem. HeelTastic contains a rare blend of neem and karanja oils used for centuries by ancient eastern civilizations to heal skin from within. My feet felt a lot softer. They didn't seem to crack or bother me.
Any time I get any type of dry skin, it's like it magically disappears. I have no more callusing, no more cracking. My skin looks great. So stop hiding horrendous heels, and start loving your feet again with HeelTastic Cracked Heel Renewal. There was no residue. It smelled wonderful, and it took care of the problem finally. Take yours home today.
Related Searches