"Hello Kitty® 1.7-Cubic Foot Fridge" Is Not Available for Sale Online.
We have provided the content below as informational. Please view additional items Customers also viewed.
Related Searches:
Similar Products: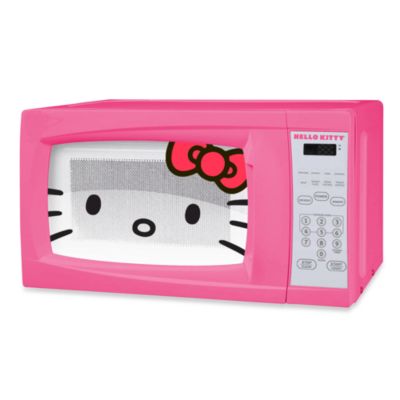 Hello Kitty® Microwave
Price:
$99.99
Brand:
Hello Kitty
Pretty in pink with an adorable Hello Kitty front glass panel design, this 0.7 cubic foot Hello Kitty® Microwave would look terrific on any kitchen countertop or dorm room.
Hello Kitty® 1.7-Cubic Foot Fridge
Customers Also Viewed
$19.99

Exclusively Ours

(1 Review)

$39.99

$29.99

Clearance!

(1 Review)

$7.99

Exclusively Ours

(5 Reviews)
Frequently Bought With
$7.99 - $9.99
(3 Reviews)

$39.99 - $79.99
(1 Review)

$179.99

$129.99

Price reflects $50 instant rebate

(12 Reviews)

$89.99 - $119.99
(38 Reviews)

$19.99 - $24.99
(2 Reviews)
With 1.8 cubic feet, this single door refrigerator features a separate chiller compartment, compressor cooling with an energy efficient Compressor and low noise operation
It also offers leveling legs, mechanical control with adjustable thermostat
Fridge ranges from 32° F - to 50° F and chiller compartment ranges from 30.2° F - 32° F
Refrigerator also has a reversible door, bottle storage on door and flush-back design
Measures 20.2"L x 20.2"W x 20.2"H
One-year limited warranty
UL listed
Model # FR17-HK
SKU # 18320169
Hello Kitty® 1.7-Cubic Foot Fridge
6
7
It was delivered with dents...
it works really good. But, it upset me that when I opened it, there were big dents. I wouldn't say that it's small. A small freezer and, a small tray for carrying food.
October 2, 2014
Hello Kitty Compact Refrigerator
Exactly what my granddaughter wanted to take away to college with her.
September 1, 2014
Great product, Great shipping process!
I ordered my mini fridge on a Monday it came to me that next Tuesday, haven't gotten to put it to use yet because I haven't moved into my dorm but I'm sure it'll be great!
August 15, 2014
Awesome Product
I purchased a Hello Kitty mini fridge from Bed, Bath & Beyond in Westchester, CA approximately a year ago. I needed room for bottled water as well as canned sodas, sports drinks and energy drinks. They were occupying too much room in my main refrigerator. This mini fridge has been a Godsend. I am so thankful to have it not just because it is pink, adorable and Hello Kitty, but because it has been such a space saver in my full sized refrigerator. It is a nice, compact size, so it fits wonderfully in my mini bar. The only thing I wish it could be is a little taller. That would make it great for college students who need refrigerators for their dorms and want something other than a plain mini fridge. Otherwise, it is a great addition to any home. It works well and actually keeps my beverages colder than my full sized refrigerator. I highly recommend this product.
October 26, 2013
The cutiest fridge ever!!!
I brought this for my 8 year old daughter's room last christmas, and it was perfect. All of her water bottles and juices fit on the shelves and in the door. It does have a freezer compartment that works really well (my daughter doesn't use it, but I tested it). It does have a little humming sound just like any other refridgerator, but it's not noticable. I would recommend this item to anyone.
October 23, 2013
Wonderful Purchase
I am so happy with my Hello Kitty frig. I have it on a marble table in my bedroom. It is very quiet and so handy. I keep a small bag of ice in the freezer. It didn't come with ice trays as talked about in the instructions, so don't know if you are suppose to buy your own or what. It was totally sealed up and new when received. It holds a bottle of wine, 16 cans of soda, and a half dozen small bottles of water. Plus I have crackers and cheese on top of the sodas. So, very roomy for it's small size. Bright pink with Hello Kitty on it so very feminine, guys prop wouldn't like. I highly recommend it for it's price. Plus arrived quickly and in perfect condition.
December 28, 2011
Last Viewed Items
$29.99 - $34.99
(1 Review)