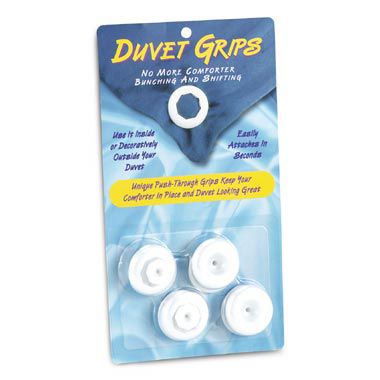 Hold On! Duvet Donuts
Durable plastic grips will not harm fabrics.
Attaches and detaches in seconds.
Fits lightweight to overstuffed comforters and duvets without harming fabric.
Includes 4 clips.
SKU # 12022778
Hold On! Duvet Donuts
10
11
Great product
I've been using these for almost 10 years now - still the original set. I don't find them difficult or unwieldy in the least to apply nor lacking in their ability to stay in place. They go on in two minutes and they don't come off until I remove them. Just coming back to get another set for a different room. No hesitation recommending. Confused why some people have problems with these.
November 8, 2014
What a useless product!
Complete waste of money & time trying to attach them! All I got was two sore thumbs. Actually four sore thumbs as my husband couldn't attach these either!!:(
September 29, 2014
Work as promised
I've had these on my duvet for several weeks and not had any problems. It is so nice to NOT have to go chasing my duvet inside my duvet cover every other morning when I make my bed!
April 29, 2014
pass on these.
These make the corners bunch up and look ugly, and them fall off after a few days. I am glad i only bought one set to try out in my sons room instead of buying them for all of the rooms in my house! Pass on these!
June 13, 2013
Perfect solution for duvet covers and comforters
I've used both metal/padded comforter clips and the duvet donuts. The donuts are great and far superior to the clips. They go on very easily as long as you make sure that you are not trying to clip them over stuffing or filler. (Shake the stuffing away from the corner as you install the donut.) I use six for each comforter, one at each corner and one in the middle at top and bottom. I've never had a problem removing them or having them detach unexpectedly. I highly recommend this product.
March 26, 2013
Do not be the sucka I was, these stink
These only work for about two weeks until they stretch or somehow become too loose. The you will find them not only falling off but also out of the duvet cover, rolling around the floor. I bought four sets of these, one for every bedroom and the guest room too - totally duped.
March 16, 2013
skip these
The duvet donuts are a waste. They do not hold the comforter inside the duvet at all and 2 of the four came off within 24 hours. Also had a hard time attaching these to the duvet. Luckily they were cheap so no need to return but very very disappointed as I thought it would keep the duvet looking neat. Dont waste your money.
August 19, 2012
Perfect for the job
I've had these duvet donuts for over a year now and am quite pleased with them. they fasten securely and tuck into the corners of the duvet. I no longer worry about the duvet shifting within the cover anymore. I always recommend these when someone asks.
December 13, 2011
Related Searches:
Similar Products: