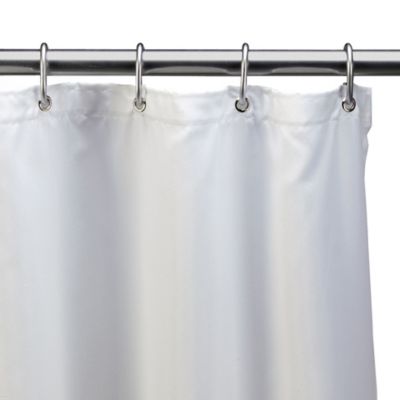 Hotel White Fabric Shower Curtain Liner
Shower curtain liner measures 70" W x 72" L.
100% polyester.
Machine wash.
Imported.
SKU # 12176244
Hotel White Fabric Shower Curtain Liner
16
18
Very nice.
Good quality liner. Will probably get a second one just to have on hand.
April 4, 2013
Disappointed!
I wish I would have read the reviews first! Used it for the first time last night and was very upset that I had water outside the tub. It is going back!!
December 17, 2012
Satisfied Buyer
This shower curtain liner has performed well and I have had no problem with water leaking through it. I would purchase it again and recommend it to others.
December 7, 2012
Other Reviews can be misleading
I read the revews before I bought this, and some of them said this shower curtain let water through. Others said it wouldn't unless you had a direct spray at it. I am happy to report that I have not had any problems with this shower curtain!
October 18, 2012
Awesome
This shower liner is great! water does not go through it, and i LOVE that I can just throw it in the washer when ever I need to clean it (we haven't needed to yet though). It's so much better then the plastic ones we've always had.
August 9, 2012
Not worth the money
This shower curtain liner is absolutely worthless. Water goes through it. I will take it down and throw it away and go buy another - not out of this material. Do not purchase this.
March 8, 2012
Good curtain
I use this instead of a vinyl curtain liner. I take it down and wash it in the machine every 3-4 months (hang to dry) and have no mildew yet.
February 3, 2012
best shower liner EVER
No more falling off of hooks, no more problems at all. Quality of a hotel liner. The best "mildewproof" liner I've ever seen/used. Nice and thick (but soft), I've never worried about facing the water towards the liner while I shave my legs. Never had a problem with mildew either, but I keep my fan on for awhile after my shower and spread out the liner so it's not stuck to the tub until it dries. Love it!
January 22, 2012
Similar Products:
Also check out:
$49.99 - $69.99
(2 Reviews)

$39.99 - $59.99

Exclusively Ours

(4 Reviews)

$14.99 - $54.99
(16 Reviews)

$39.99 - $59.99
(5 Reviews)

$39.99

Exclusively Ours

(6 Reviews)

$34.99 - $54.99
(1 Review)
$29.99 - $49.99
(3 Reviews)

$49.99 - $69.99
(2 Reviews)

$49.99 - $59.99
(2 Reviews)

$49.99 - $69.99
(1 Review)

$39.99 - $59.99
(4 Reviews)

$29.99 - $49.99
(3 Reviews)