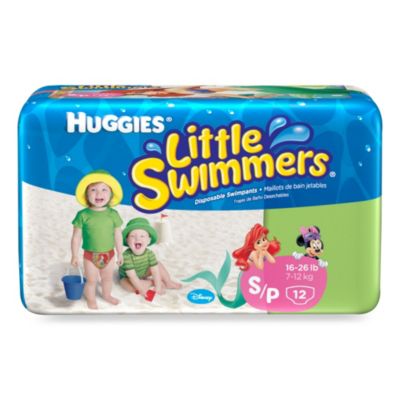 Huggies® Little Swimmers Small Disposable Swimpants (12 Count)
Your little one will love the Disney® character designs, too.
SKU # 15036737
Huggies® Little Swimmers Small Disposable Swimpants (12 Count)No Spoken Words
Huggies® Little Swimmers Small Disposable Swimpants (12 Count)
2090
2091
great even for small babies
my daughter was a few months old when we had to stay at a hotel for about a month because our place got flooded with the hotel having a pool i wanted to take her in it to see how she did and to test out the swimmers i found the smallest size i could and put them on her and wow these things are amazing,i was really impressed after trying them we went swimming a few more times easy to change and cute characters.
April 11, 2014
The Best!
I absolutly love these and so does my daughter! The best swimmers ever!!
January 26, 2014
Wonderful Purchase
These are wonderful disposable swim diapers. They hold in what they need to and last for a while. My son has worn them for the past two summers and we have had no issues. Thanks!!!
January 15, 2014
Little Swimmers
I like Little Swimmers swimpants cause it hold there potty will I use this on my both boys and still going to use this for my lil girl when she old enough to use it and people like that I use this in there pool
January 15, 2014
Great for the beach
These are the best diaper for at the beach! My daughter makes it thru the whole day with only two and almost no sand on her butt! Definitely the best thing for keeping the sand off and rashes away!
January 10, 2014
holds it in
we tried little swimmers and they worked perfectly...we can't go a summer without them..my little angel loves the water .
January 9, 2014
swimmers diapers
I love these diapers. They worked great on my son and daughter when they both were still wearing diapers. They never had any accidents and it was easy to ripe the side of the diapers to get them off. I plan I use them this summer with my newborn as well.
January 7, 2014
Solid Purchase!
Little Swimmers are the best out there, they are lightweight and really held up really well for hours. They were easy to put on and take off, will def buy again! Product works and fits as described.
January 6, 2014
Related Searches:
Similar Products: