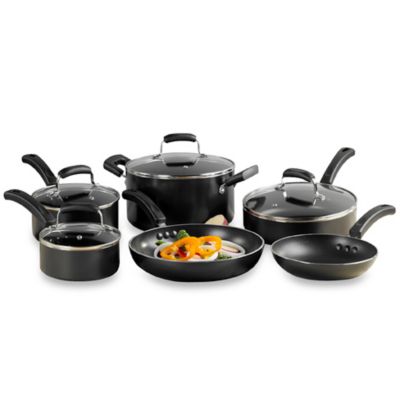 Invitations® Everyday Nonstick 10-Piece Cookware Set
Tight-fitting tempered glass lids with steam vents allow you to monitor food without disturbing the cooking process
Set includes 1-quart covered sauce pan, 2-quart covered sauce pan, 9 1/2" open fry pan, 8" open fry pan, 9 1/2" covered skillet, 5-quart covered Dutch oven, plus three 3 nylon cooking utensils
Oven safe
Limited lifetime manufacturer's warranty
SKU # 16527971
Invitations® Everyday Nonstick 10-Piece Cookware Set
38
42
Pans
Item was bought as gift. Receiver said quality looked good. This was for a college student moving into first apt.
August 6, 2014
great price
Purchase this cookware for my new apartment. ....never been happy. The price is right for number of items it comes in with. Im happy with my purchase
August 5, 2014
Very Good Quality For Price
I bought this set two years ago, and with a coupon it was an amazing deal! After two years these pots and pans have had a lot of use and have held up extremely well. I don't use the pans much, but the pots, especially the two larger ones, have seen a lot of action and are still going strong. The non-stick coating is quite good and they clean very easily by hand with a non-scratch sponge. I also love how snugly the lids fit onto the dishes, and how each dish has its own lid. The only drawback to this product are the cooking utensils. They are starting to show some wear and tear from lots of use, and they are not the sturdiest products. Overall, I VERY highly recommend this product to someone who wants an inexpensive cookware set that is still good quality.
May 28, 2014
Very Nice
Since I don't have the budget to purchase an expensive cookware, when I saw this set, I felt like this is a great to start to have a nice and comfort meal everyday. And so far so good these cookware set works fine for me and my family. I highly recommend this item for those who cannot afford to purchase an expensive set.
May 5, 2014
light weight
I have used the cookware for 2 weeks now and very much like the light weight, easy clean and good non-stick.
March 10, 2014
NOT Oven Safe
I am totally excited about the pots and pans as I will soon be a first time home buyer. Great quality for the price. HOWEVER, the BBB (at the time I am writing this- I called them to take it off of the website) website says this set is oven safe, but the manufacturer's instructions says that they are not to be used in the oven or under broiler. Not totally disappointed, because I only put dutch ovens or bakeware in the oven anyway
December 4, 2013
Love mine!
This has everything you need for your first home. Durable, heats evenly, and has interchangeable lids for cookware of similar sizes. The non-stick is my favorite thing about these: its so good you don't even need to use oil when cooking meat. There is no sticking or mess! One suggestion: to preserve the non-stick coating, be sure to invest in proper utensils so you don't scratch the bottoms.
November 21, 2013
Great Purchase
Wanted to get a cookware set for my kitchen. It was my first buy so didn't want to experiment with something too expensive. I totally love it. This set is a great buy and at such a great price. I couldn't be happier with my purchase. I would definitely recommend it.
November 19, 2013
Related Searches:
Similar Products:
Also check out:
$29.99

Beyond Value

Great Value

(13 Reviews)

$9.99

Beyond Value

(29 Reviews)

$49.99

Beyond Value

(6 Reviews)

$24.99

Beyond Value

(20 Reviews)

16 Piece Set $29.99
(19 Reviews)