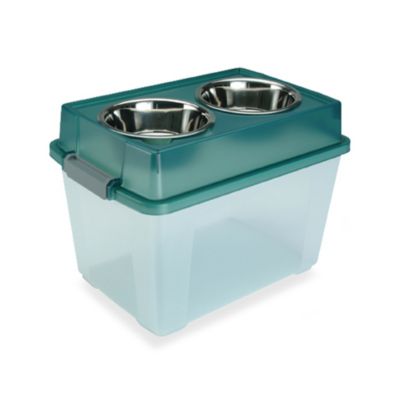 IRIS USA 45-Quart Elevated Large Dog Feeder with Storage
Feeder has an airtight seal that helps keep food fresh
Buckle design reinforces the lid for spill-proof usage
Small feeder has a 1-pint bowl capacity, measures 6" H x 17" W x 9 1/2" D, and 18-cup capacity food storage area
Medium feeder has a 1-quart bowl capacity, measures 10" H x 19 1/2" W x 10" D, and 46-cup capacity food storage area
Large feeder has a 2-quart bowl capacity, measures 15" H x 21 1/2" W x 9 1/4" D, and 64-cup capacity food storage area
SKU # 17462598
IRIS USA Elevated Small Dog Feeder with Storage
2
2
Great Product for traveling!
My mom and dad love this feeder for long distance trips!!! As it's square, it packs easily in the Suburban and the large feeder (I'm a Rhodesian Ridgeback) has enough space for my food, treats, Bully sticks and for 2 weeks as well as my small first aid kit! One of the best things about this feeder is that my mom can access my water bowl easily without digging through all of our stuff because the bowl is on the outside of the storage bin! We're buying a second one for our girl!
March 13, 2012
Great for boarding
I bought this dog feeder to take to the vet's when I occasionally have to board my dog. For most dogs, I think this feeder would be great. However, if you have a large dog who absolutely will do ANYTHING for food, beware! My Alaskan Malamute somehow got the lid off and ate the entire storage compartment at once. I only wish I had a video of how she did it. I would recommend this for the 99% of dogs who do not always think they are starving 3 seconds after eating a full meal.
October 10, 2011
Related Searches:
Similar Products: