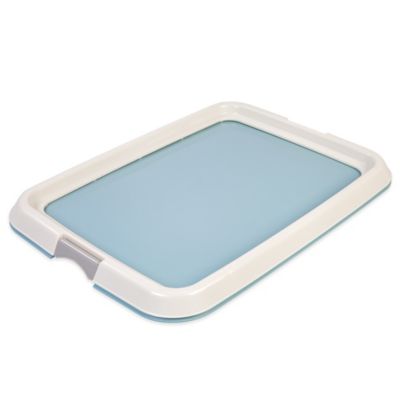 IRIS USA Pet Training Pad Holder
2 side buckles lock pad in place while rubber feet keep tray in place
Holds IRIS USA Neat 'n Dry™ pads (sold separately)
Small training pad holder measures 16.5" x 19"
Medium training pad holder measures 25.5" x 18.87"
XL training pad holder measures 25" x 37"
IRIS USA Pet Training Pad Holder
2
2
XL size is great
I have a 5 pound puppy and we have the small Iris pad holder and she would constantly circle around and around and go on the floor. With the extra large, she hasn't hit the floor yet. I buy the perfect size pad at one of the big box stores. The pads are not piddle pads but for people and they are inexpensive and work perfectly.
January 27, 2014
Love it !
I love this product it has brought order to my babies potty training..... i wish i would have gotten the large one though.... i have two chiuauahs and i am out of the house for long hours ...so the extra space would have been great... but this product is great just keep it clean and they will get the drift.
September 21, 2011
Related Searches:
Similar Products: