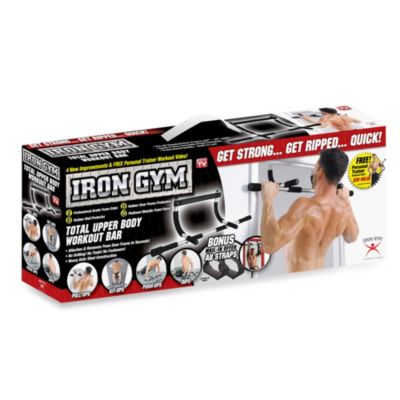 Iron Gym™
As Seen On TV
For pull ups and chin ups, the Iron Gym™ attaches and removes easily to your door frame in seconds, with no drilling, no tools and no fasteners!
Supports up to 300 pounds.
Instruction book included.
Measures 20 3/4" long.
SKU # 16159433
Iron Gym - As Seen on TV

Want to get strong? Want to get lean? Want to get ripped? Well now you can with Iron Gym, the multi-function training system that raises the bar on upper body exercise.

Iron Gym turns any door into your own personal gym in just seconds. Its unique design wraps around your door frame and uses leverage so there's no screws and no damage to your door. Start off with shoulder shredding, bicep burning chin-ups and pull-ups to develop and strengthen your shoulders, arms, back and lats. And with three different grip positions- narrow grip, wide grip and neutral- you can switch up your routine and keep challenging your muscles.

But we're not finished there. Take it to the floor for deep push-ups for a greater range of motion and no strain on you wrists. And it's a sturdy base for tricep dips. Then finish your workout at the base of your door with gut-busting crunches. For rock hard abs and obliques Iron Gym is THE way to get in serious shape fast. In just minutes a day, you'll build lean muscle and get ripped. With Iron Gym you can do pull-ups, chin-ups, push-ups, dips and crunches- every exercise you need to build a powerful upper body.
love it
i was doing dips with this product and it was working for me.
November 24, 2013
Love this Product!
The Iron Gym was recommended to me by a friend to help with some minor back pain - just for stretching - and it's been fantastic!!!!
August 15, 2013
Lives up to it's name
My son's and Husband use this everyday. It was simple to put up in the doorway.
January 27, 2013
I think it works!
First week in, and my new other half can already more easily do pull-ups on it. When we first put it up, he struggled, but now he can do the good form thing. I jump at it whenever I walk through and see how slowly I can come down. If nothing else, you can hang from it and lift your legs. Good stomach crunches that won't harm your back as much as sit-ups! You can very quickly and efficiently work your muscles on this thing. Yes, you can actually hang the thing. There's a small piece that you poke between the door frame and the wall. You then put it over that, and it doesn't fall off. It hasn't broken the doorframe yet! The diet the insert recommends is worth it for the amusement value. I'll stick with the one cookie = one pullup diet.
December 14, 2011
Great addition to gym
I have owned this product for over a year now and it's still great. I have transported the pullup bar from one door to another without difficulty! It holds its position while doing pullups as well. I highly recommend this product for a home gym.
October 4, 2011
Related Searches:
Similar Products: