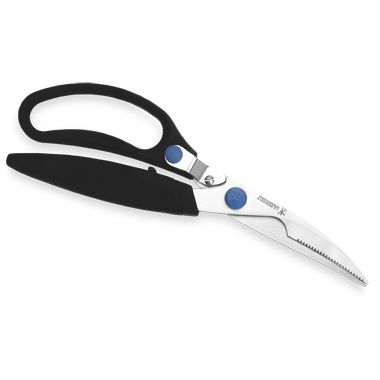 J.A. Henckels International Poultry Shears
Its high-carbon stainless steel blades and micro-serrated edges give a top performance while its Friodur ice-hardening construction makes it durable.
Shears measure 12 1/2" L.
Lifetime warranty.
SKU # 16878774
J.A. Henckels International Poultry Shears
2
2
Two pairs broke within a couple of months
I bought a pair of these in the store and within a month they broke. Since I no longer had the box or receipt I took them back to BBB and the clerk replaced them. The box stated a life time warranty. The second pair broke within 3 months. In an attempt to have them replaced by Henckels, the "customer service" requires me to send them back for inspection before they will replace them. I took the shears apart, photographed the broken spring, and sent that to Henckels but to no avail. I will never buy another Henckels product.
September 24, 2013
Henkles Poultry Shears - great feel, work great.
Our old, old Soligen spring-loaded stainless steel poultry shears finally ceased functioning after many, many years of faithful service. With a chicken dinner for 50 rapidly approaching, I searched for a quick replacement. The Henkles shears, tho not spring-loaded, were available at BB&B off the rack, at an attractive $20 price. I purchased the shears for a trial run, and they worked superbly. The grips are good and the finger loop provided full grasp control. The blades cleanly cut thru flesh and skin. The bone cutter adequately cleaved bone with a slight bit of force required. The performance equaled the Soligen shears when new. And clean up was efficient. Good bargain ... :)
August 24, 2013
Related Searches:
Similar Products:
Also check out:
$15.99

Price reflects $4 instant rebate

(1 Review)

$49.99

$50 Bonus Gift card with $300 Calphalon Purchase

(2 Reviews)

$24.99 - $39.99




$14.99 - $24.99

Clearance!

(3 Reviews)
$13.99

$12.99

Clearance!

(28 Reviews)

$24.99 - $29.99
(11 Reviews)