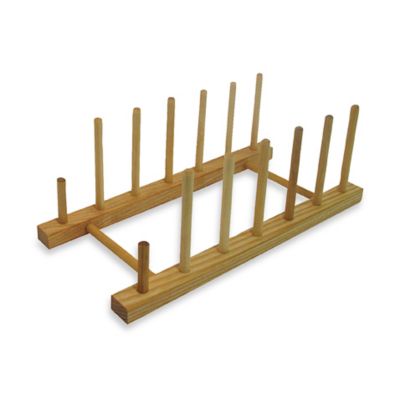 J.K. Adams Co. Flat Plate Display Stand
Flat stand holds six plates and measures 13" L x 6" W x 5" H.
SKU # 16976660
J.K. Adams Co. Flat Plate Display Stand
4
4
I was looking for a product that could hold oversized platters and this works great. It was too long for my cupboards so I had to cut a few inches off, but once that was done it worked perfectly and organzied my platters nicely. The only thing that would have made this better is if the manufacturer would make the organizer a little shorter so no cutting was involved.
January 31, 2013
handy organizer
I like this rack for vertically storing my large, heavy dinner plates. Sturdy and attractive.
September 15, 2012
LOVE IT!
I'm an interior designer and I use pots with glass lids as well as stainless steel. The display holder is perfect for my lids! I plan to purchase two more. I absolutely love it!
April 24, 2012
USEFUL
I use one of those dryer mats (which I love!) but if you wash plates or bowls, they have to lay flat. This solves that issue. In my opinion it looks better than the standard dish rack with the rubber mat.
August 24, 2011
Related Searches:
Similar Products: